Seeing an elite barbarian pushing for your tower and a princess at the back with no elixir to counter them is simply the worst nightmare for any clash royale player. If you've been there too, this article will help you counter them and build pushes like that to give your opponent PTSD every time they see the card that you used.
Hey everyone in this article I'll be telling you how to build your own push to destroy your opponent's tower. So without further delay let's get started.
Building a push
Building a push highly depends on the deck you're using. If you're using a deck with low average elixir cost, it'll be easy for you to push using your main cards.
For example if you're using a hog rider deck with an average elixir cost of 3 or below. You'll be able to spam your opponent with hog riders one after the other.
There are generally two types of deck in clash royale, low elixir cost (cycle decks) and high elixir cost (mega push decks).
Low average elixir cost
For low average elixir costing decks make sure to follow these steps.
Use your main card to find out what your opponent has to counter your main card.
Use your main card multiple times to find out all the counters they have.
Either find a way to stop their counter or use your main card backed with something when your opponent doesn't have anything to counter it in rotation.
After doing this a couple of times from my experience I can't tell either the opponents rage quit or start trying to troll you. In either case you've won and mission accomplished.
High average elixir cost
As for high average elixir cost decks what you need to do is keep small pushing cards and main pushing cards. I'll use the example of lavaloon deck.
For small pushing I use balloon with minions. The goal of small push is not to get you a tower but to see what your opponent has to counter your cards.
If your main pushing card is an air unit make sure to use small pushing card as air unit as well. For me I was using lava hound for main pushing card and i used balloon and minions so that my opponent will reveal their cards that can counter my main push.
As i said the goal of small push is not to get a tower. If you get a tower with small push it's well and good but don't make it your top priority. Use your small push to set the stage for your main push.
Once you're done with small pushes and you know how to deal with any sort of counter your opponent might have for you deploy your main card behind your tower.
Keep your own counters for anything that your opponent can throw at you ready. In my case opponent used a rocket and i was not expecting it.
However the cards that were backing my main card survived and I ended up winning the game by taking that tower. That's what you need to remember, always support your push with right cards when you're sure that you have the counters for everything that your opponent can use. For me my opponent had a tesla and a princess so I kept arrows and lightening ready in case he used them.
Once you're in the double elixir time try deploying more of your main cards and keep the pressure on your opponent.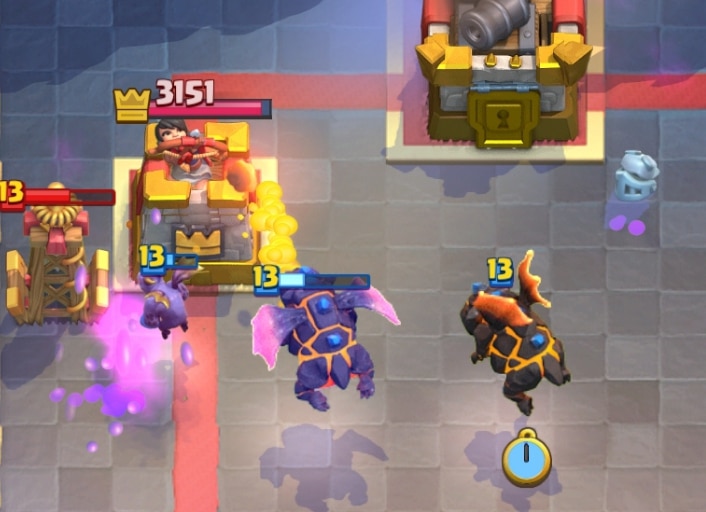 At the end make sure to know when it's worth pushing and when you need to back down and defend. That's the single most useful tip for making your pushes successful.
That's it from this article hope you liked it and learned something, stay tuned for more and keep clashing!