Abilities are one of the best and coolest things in clash of clans. Each hero has a unique ability which makes them even more fun to play with. The best about hero's abilities is that you don't need to wait too much to unlock them.
In this article we'll be looking over each and everything you need to know from unlocking ability to using it.
Types
Each hero has a unique type of ability
Barbarian King – Iron fist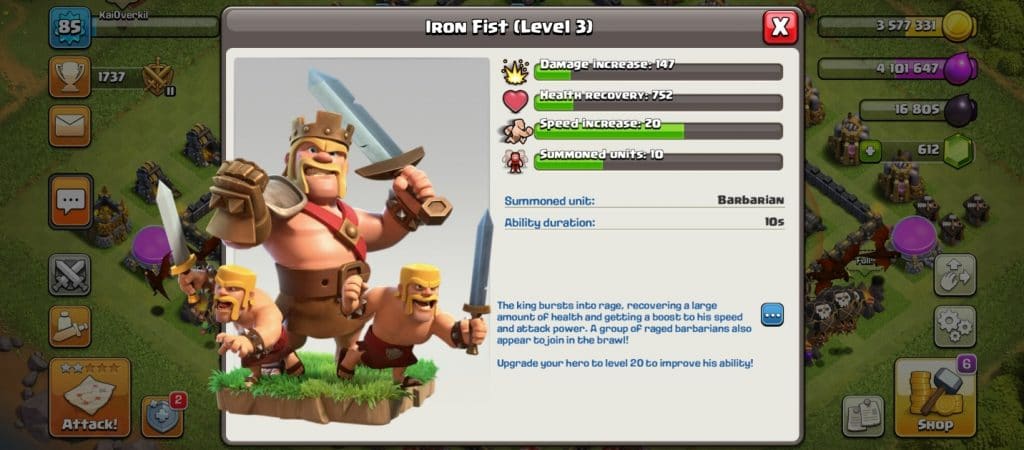 Barbarian king summons a rage spell and barbarians to back him up. The rage spell he summons, moves with him and he gains a bit of health.
Archer Queen – Royal Cloak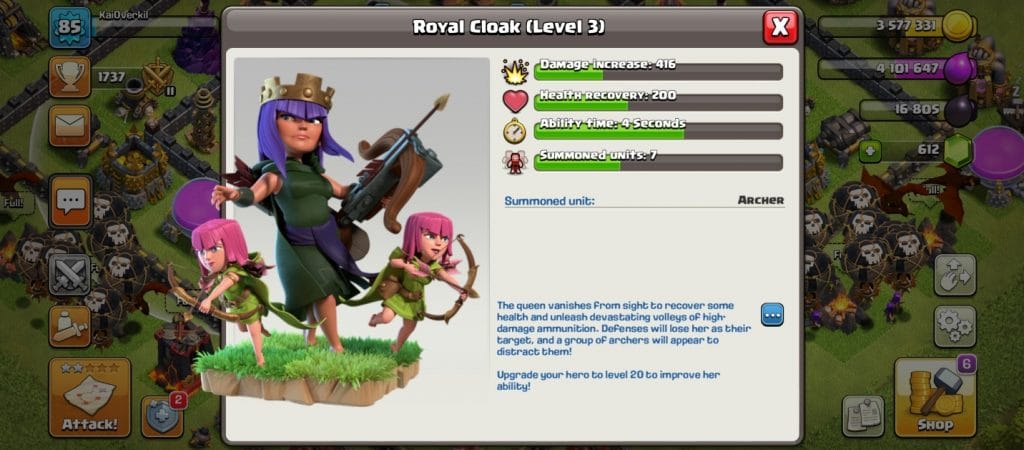 Archer queen also summons her archers and becomes invisible for a while. When you use her ability she gains attack speed and her damage per second increases.
Grand Warden – Eternal Tome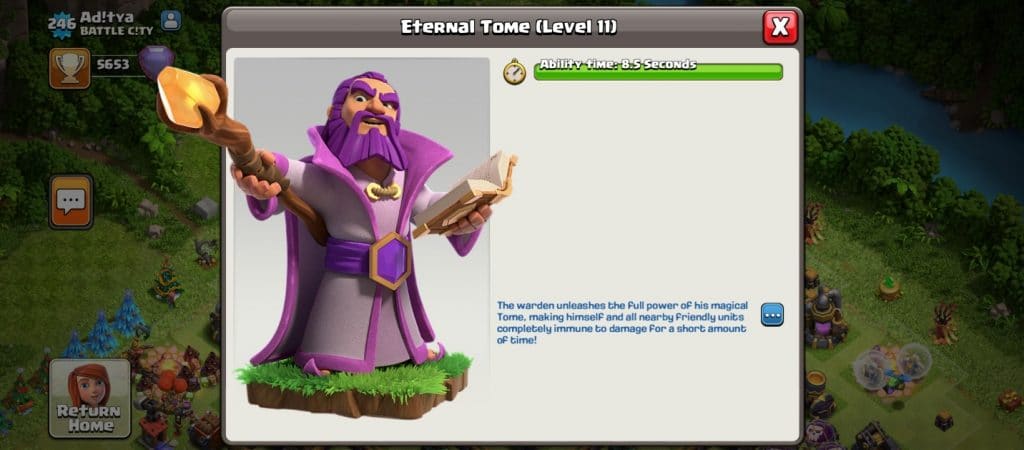 Grand warden makes all the troops within his range immune to damage for a certain period of time.
Royal Champion – Seeking shield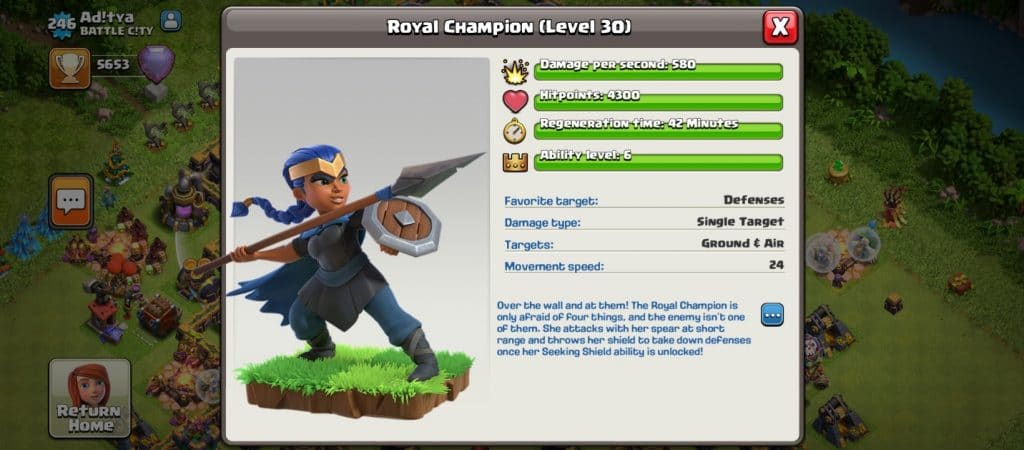 Royal champion regenerates her health and throws a captain America shield and damages buildings in its path. She only targets defensive buildings so definitely go for it.
Battle Machine – Electric hammer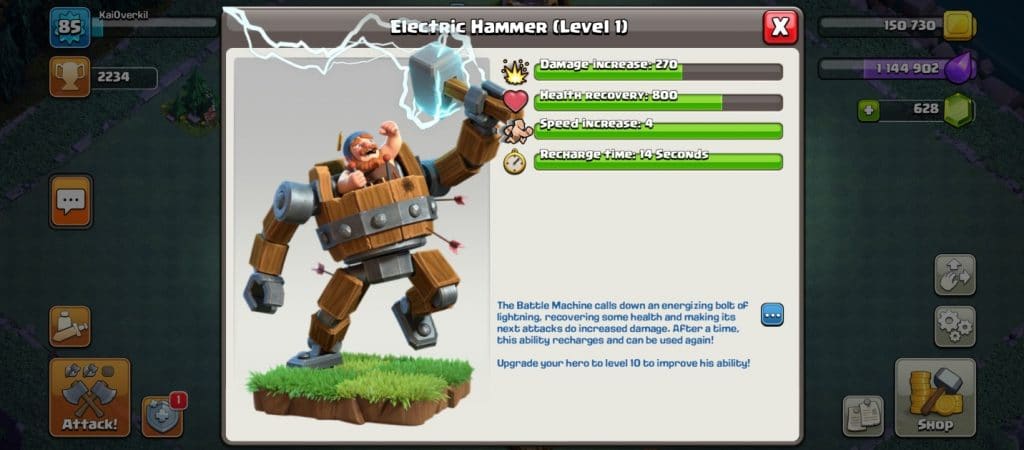 This is the only ability that can be used multiple times. Every time you use this ability it increases the health of battle machine and gives damage per second increase. After using it the ability goes on cool down and after cool down you can use it again.
How to get ability
The minimum requirements you need fulfill in order to unlock ability on any hero is to reach level 5 with it.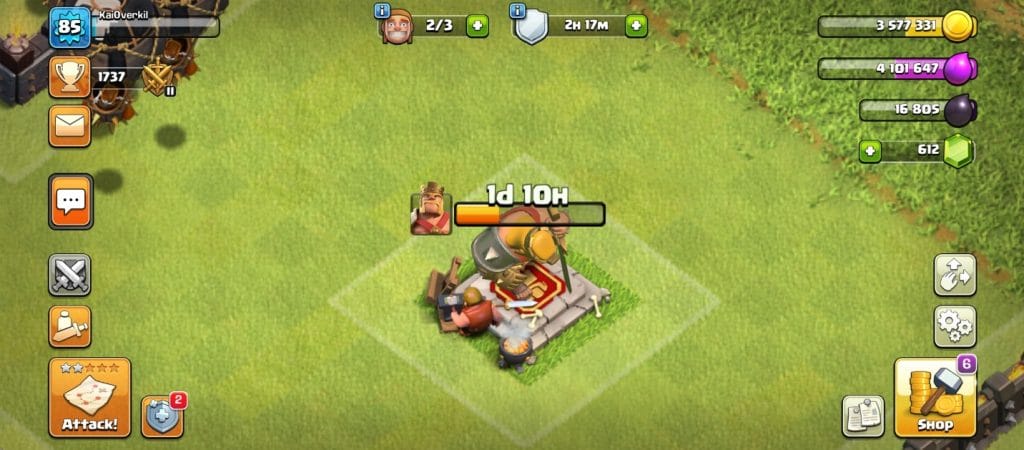 Now the good thing is, right when you unlock a hero it has the ability to be leveled up on the same town hall level. For example you unlock barbarian king on town hall level 7, on town hall level 7 you can level him up to level 5. That means you can unlock him as well as unlock his ability while staying at the same town hall level. All you need to do is farm enough resources to unlock abilities that are literally all you need to do. To know how to farm faster with a good army read our article on "Best armies in clash of clans"
Ability levels
Ability levels work different than normal hero levels. The perks you get with ability like increase damage does not increase with increase in level.
For example if you have a level 5 barbarian king his ability will be the same as level 9 barbarian king. Ability levels increase every time you level up your hero Up To 5 levels.
Barbarian king has ability level 1 at level 5 which means when you unlock his ability it will be at level 1. When you level him up and make him level 10 his ability level will be 2. On level 15 his ability level will be 3 and so on.
With increased ability level the perks heroes gain becomes even better. For reference barbarian king has 154 damage per hit on ability level 1 and at max it becomes 714. It's more than all heroes combined at ability level 1.
How to use?
In order to use a hero's ability you need to deploy them first. Once you deploy them you'll be able to see their health bar right above their icon.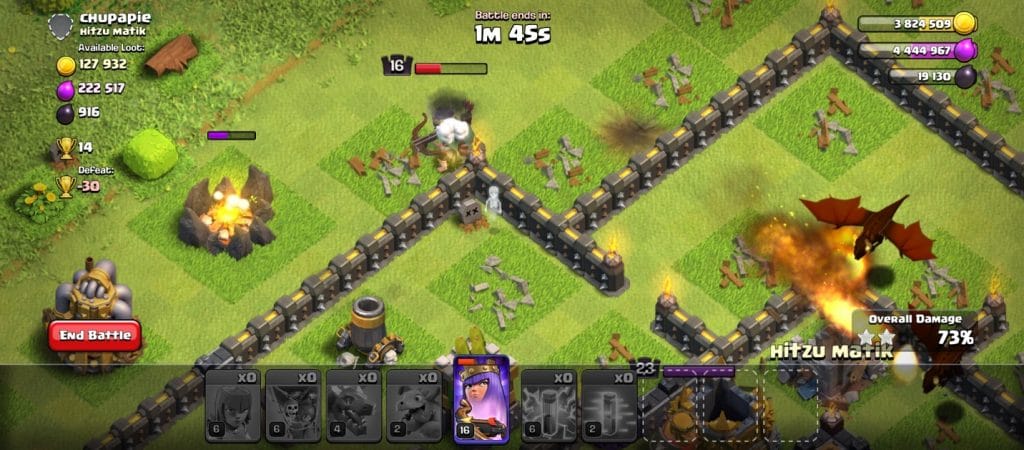 All you need to do is click their icon and it will activate their ability.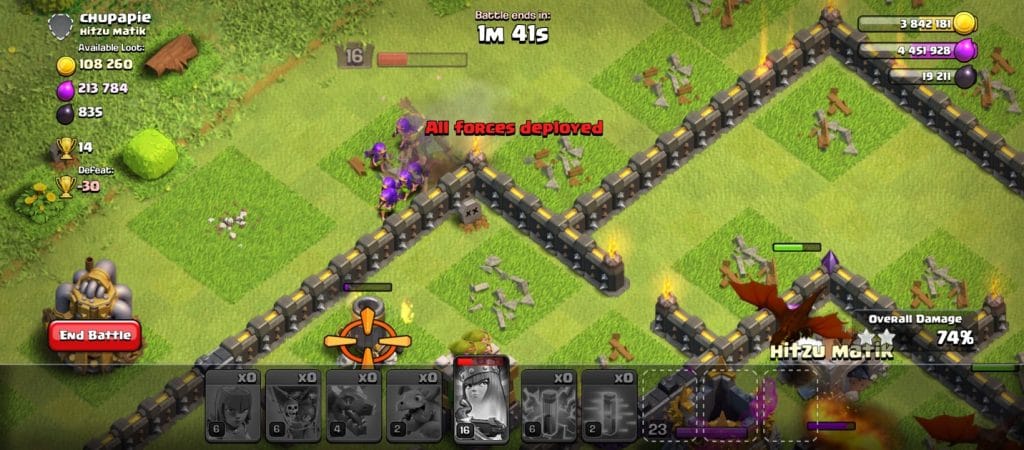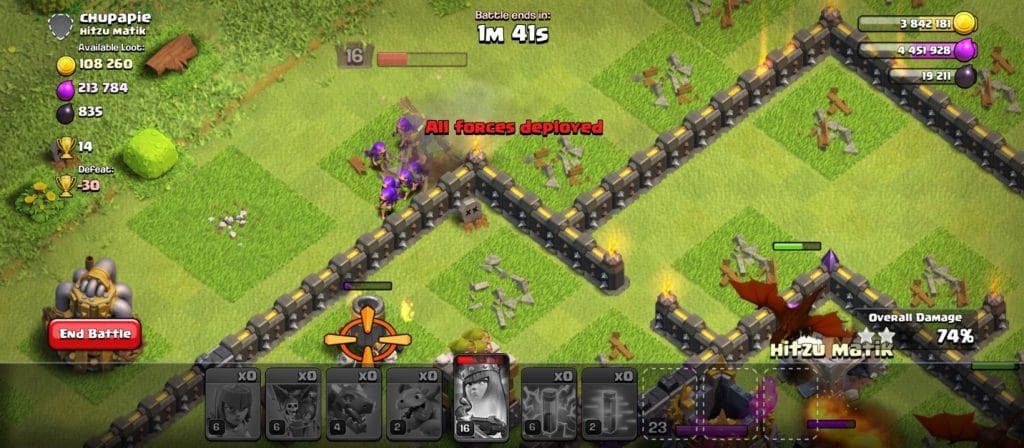 Once the ability is used their icon will become gray meaning you can use it.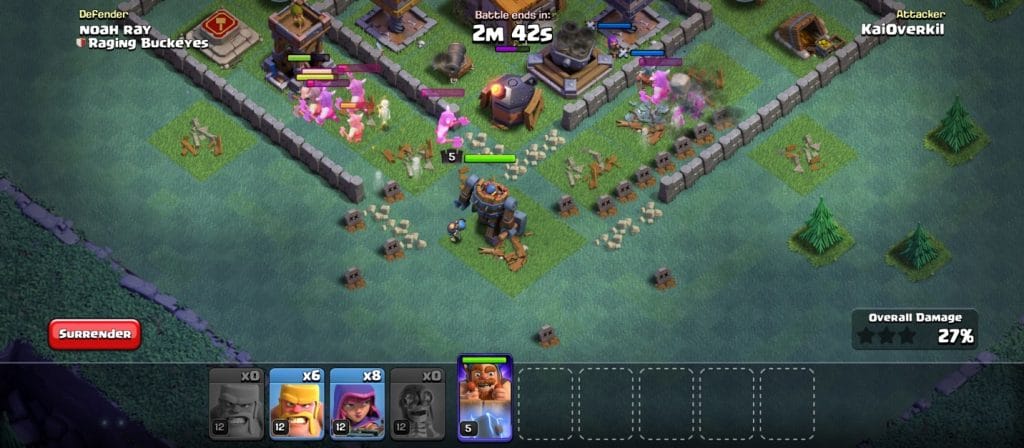 In case of battle machine when you use its ability its icon becomes gray and a light gray cycle starts spinning which shows the cool down time.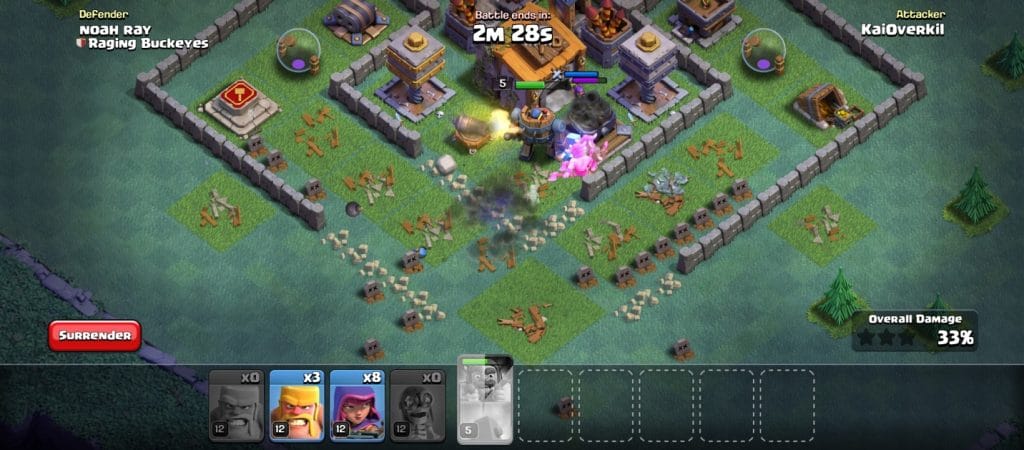 Once the cool down time is over the icon becomes colorful again and you can use it's ability again.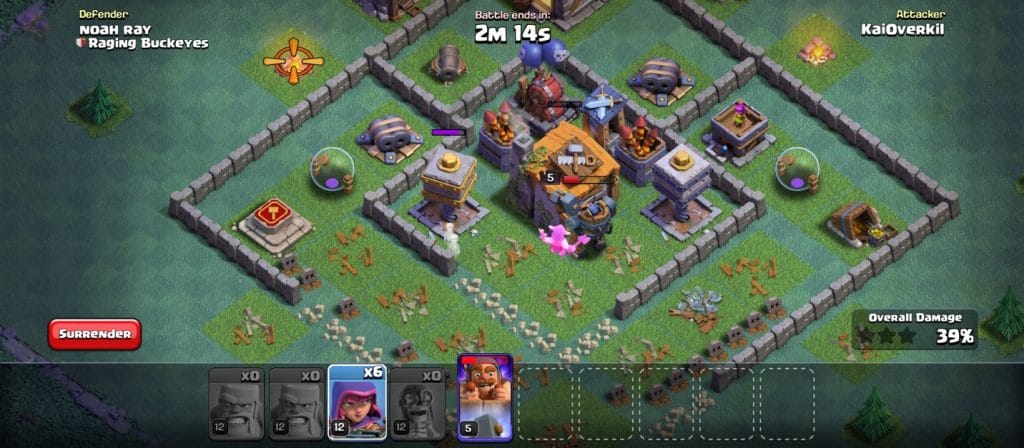 Quick Tips
Barbarian king – Use his ability when his health is low.
Archer Queen – Use her ability to make defenses switch target or when her health is low.
Grand warden – Use his ability to evade high damage buildings like inferno.
Royal Champion – User her ability at low health and to take down high hp buildings.
Battle machine – Use its ability as much as you can, don't hold onto it and keep using it as often as possible.
That's all from this article hope you enjoyed and learned something. Make sure to have a ton of fun and keep clashing!