Clans are the best way of making new friends and playing with the ones you have. Clash royale provides a way of playing friendly battles, playing wars and have a way of conversation with your friends through clans. So overall clans are one of the best part of clash royale. However having a clan of your own is even better.
In this article that's precisely what I'll be telling you. I'll explain everything you need to know from creating a new clan to inviting friends in that clan in only 3 steps. So without further delay let's get right into it.
Requirements
In order to make a clan you need to do following 2 things.
Reach king level 1 (Meaning complete the tutorial)
Have at least 1000 gold.
Both of these requirements are needed to be fulfilled in order to create or join clans and luckily they aren't hard to complete.
For the first one, all you need to do is complete the tutorial and you'll be good to go. Second one only needs you to get 1000 gold which isn't that hard since gold isn't as scarce as gems.
After completing both requirements you are good to go and you can start following the steps given below.
Step 1 – Set clan details
This is the first step of creating a clan, for this you need to go to the clan screen. You can do it by simply clicking the blue shield button on the bottom of home screen.
Once there you can either create a clan or join a clan. For this article we will focus on creating clan, for that click on the "Show" button.
Clicking on show button will cause a pop up to appear where you can see different clans and join them or you can click the "Create New" button and create your own clan.
Before you move forward make sure you have 1000 gold that's how much it costs to make a clan. Once you have enough gold you can move on to editing clan details.
Step – 2 Create Clan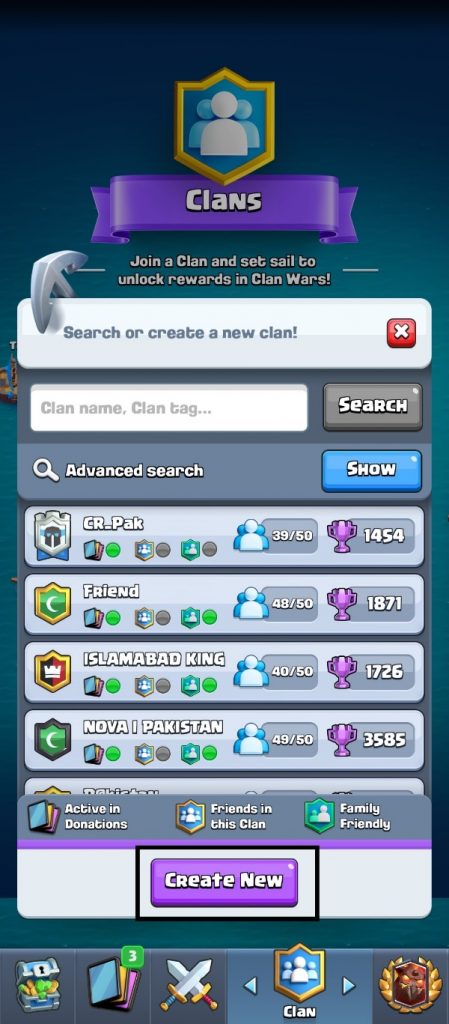 After clicking show click the purple "Create New" button which will let you edit details of your clan.
In the edit menu you can set your clan name, description, badge, type, required trophies and location.
Type means if your clan is open, invite only or close. In open, people can freely join. In invite people will need to send a join request and in closed no one can join the clan.
In required trophies you can set the minimum trophies a player would need to join your clan.
As for location, you can set it whatever it does not change the place where people can access your clan.
Once you are done editing the details, you can press the green 1000 gold button to create your clan.
Step 3 – Invite friends
Once you click the green 1000 gold button your clan will be created and you can now manage it and invite your friend in it.
It will open this type of screen once clan is created. You can click the top right icon to access your clan chat and from there you can go to the clan dashboard screen. The icon will be the same as your clan badge.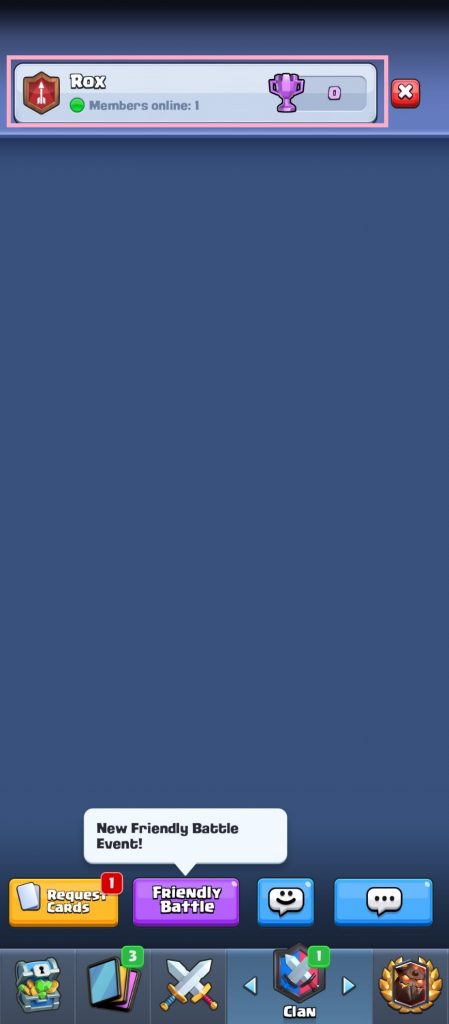 After clicking it you will be taken to the clan chat screen, there you can click the top button to access your clan dashboard.
There it will show you your clan details, you can click the settings icon to change your clan settings that you set at start like minimum trophies requirement, clan type etc, anytime you want.
In order to invite someone in your clan click the green "Invite to clan" button and it will generate a link.
Send that link to anyone and by clicking it they will be able to join your clan.
That's it from this article stay tuned for more. Have fun playing with your friends and happy clashing!