Clash of Clans and Clash Royale both are marvelous creations of Supercell. These games have the fanbase of an eternity. Clash Royale was released a bit later than Clash of Clans, but now they both have been updated to the same level. In this article we will show you some comparisons between the two games.
What are these games?
Clash of Clans:
Clash of Clans is a tribe themed game. Where in the start you are given the role of chief for a village. Then you have to build it up and enhance it. There are troops, spells and buildings related to the theme. You can unlock them by upgrading your town hall. As this is an online game, there are other players in it too. So, to interact with them there are small communities in the game called clans. You can attack other players' villages and loot their resources, and likewise those players can also attack you back and loot your base. If you want to play it, then you have to deal with things strategically.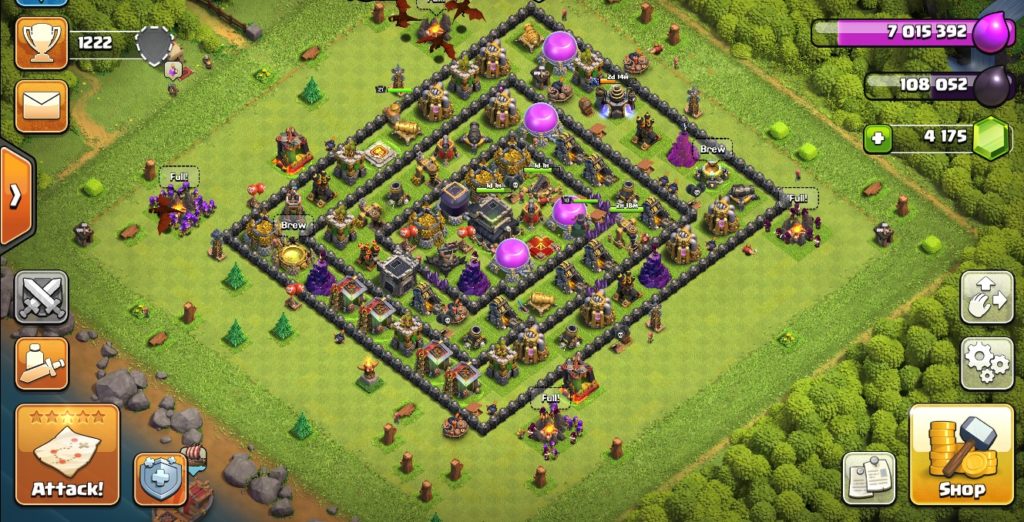 Clash Royale:
Clash Royale is based on the concept of a strategic card game. Here you have a deck which you can fill up by cards. These cards are troops, spells and some buildings. Some of these spells, troops and buildings have been borrowed from Clash of Clans. As this is more of a card game, it is quite easy to progress in it as compared to Clash of Clans. This is also an online game, which means you'll be playing with real players. Clash Royale also contains the concept of clans from Clash of Clans.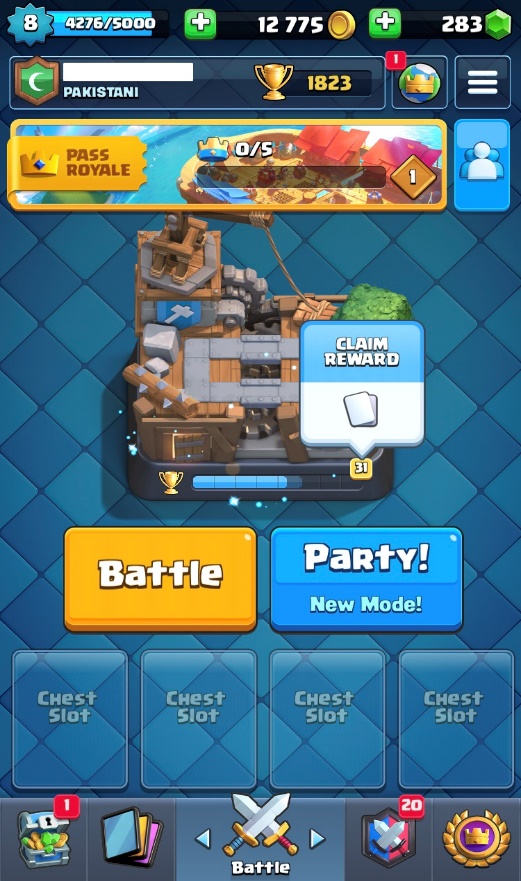 How are these games are played?
Clash of Clans:
In Clash of Clans, you need resources to upgrade your troops and buildings. There are some buildings like gold mines, elixir collectors and dark elixir collectors which produce the resources needed. But sometimes you need some extra resources to upgrade something immediately. So, you have an option to invade other players' villages and loot their resources. This will also give you some trophies in reward if you win the battle, from one star to three stars rating. There is a catch that other plays can also attack you as well. So, better look-up for that.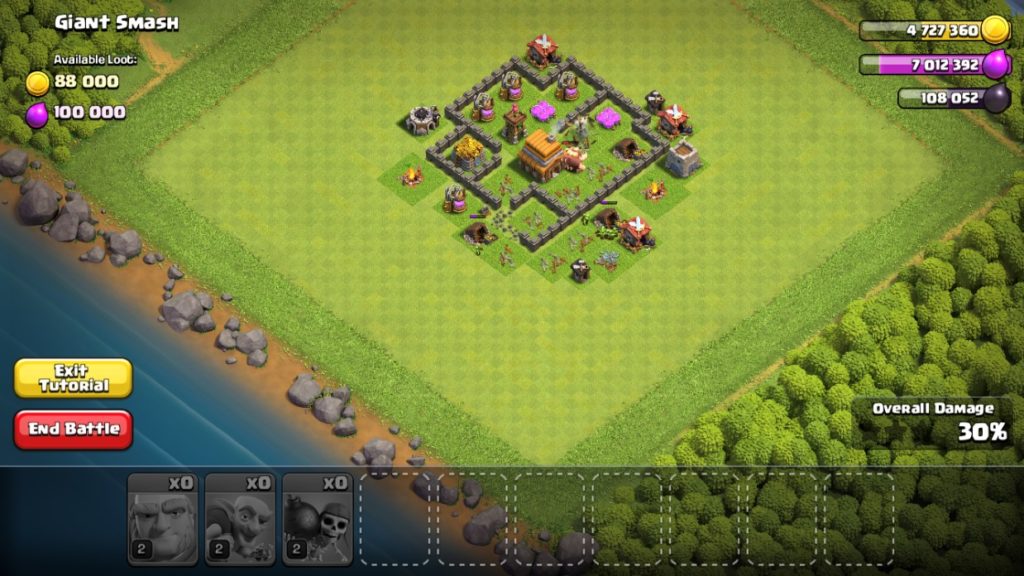 Clash Royale:
The first thing you need to do in Clash Royale is to setup your deck. You can choose whatever strategy you play with or want to play with. When you enter a match, you have three towers and your opponent also has three towers. The middle tower of both is called the King tower and it is really important for both because if your king tower is destroyed, your game is over. So, the player who destroys all or the most towers wins. But this also has a catch. The catch is that each card uses a certain amount of elixir, which is a resource in both games. So, whenever you deploy a card that amount of elixir is deducted from the elixir bar, which automatically refills at a fixed rate.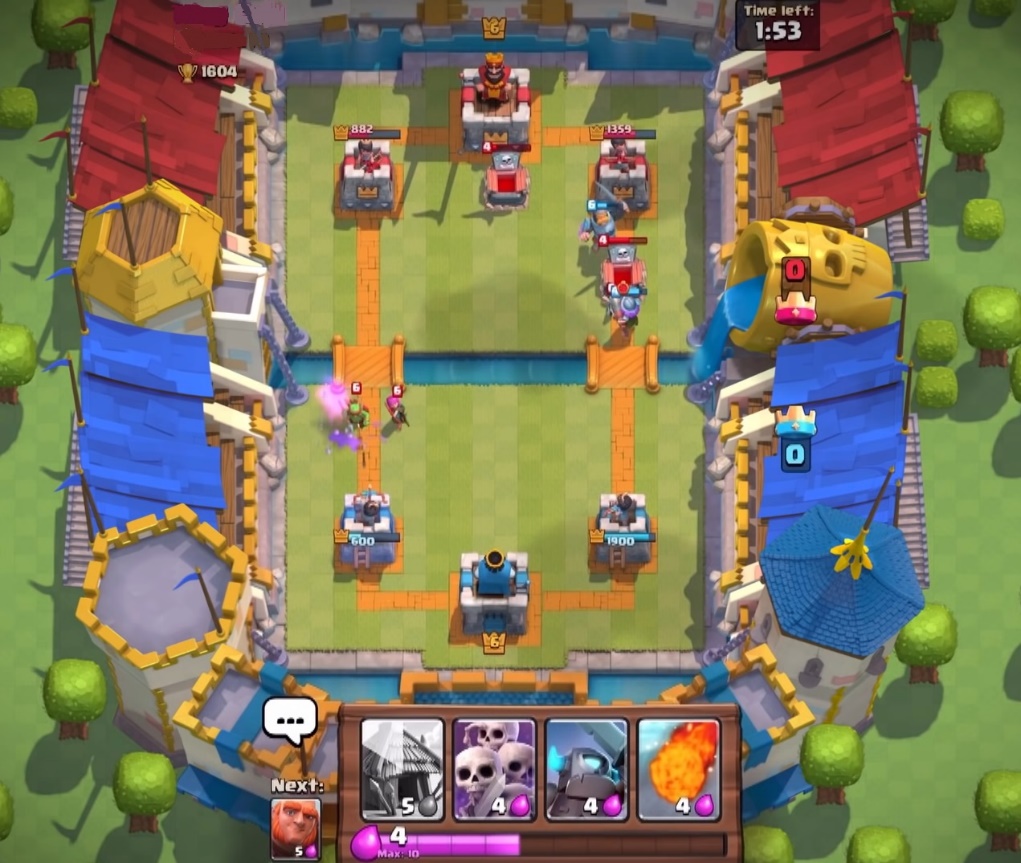 Who is your army?
Clash of Clans:
You have your own choice to create your own army, whatever type of troops you want you can train them in barracks and take them to battle. You also have some other supporters which are called spells. You can use them to enhance certain abilities of your troops for a few seconds, but these few seconds can make a lot of difference. Basically, this is a strategy game, so you need to plan how you want to play.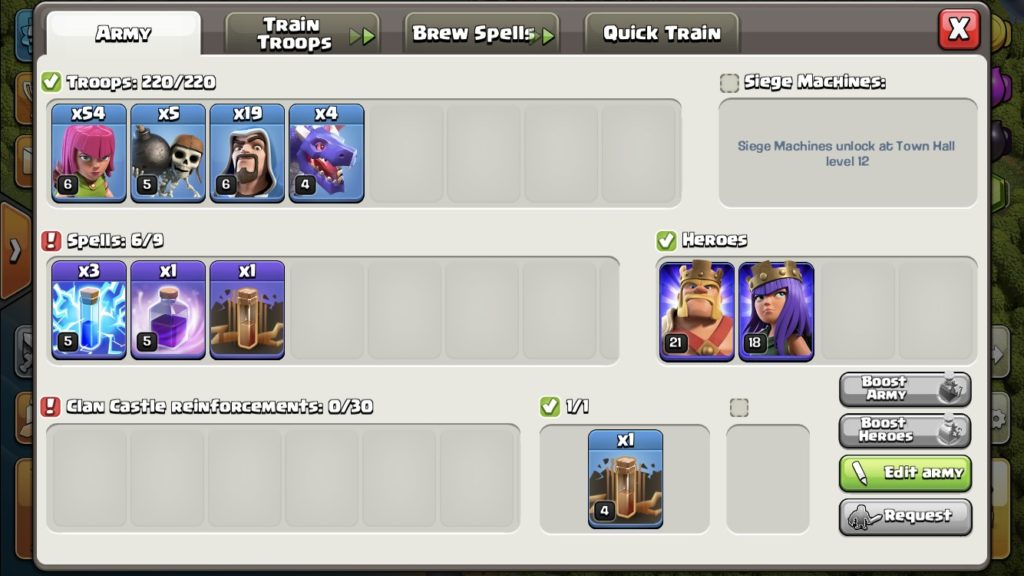 Clash Royale:
In Clash Royale, there are only two weapons you have. It's your cards and your brain. The main thing is your deck and how you have built it. Whether you are playing in attacking strategy or defensive. You should have the right cards to build out that strategy. Card types can be all troops, spells and buildings. All you need to do is to unlock them and upgrade them to make them stronger.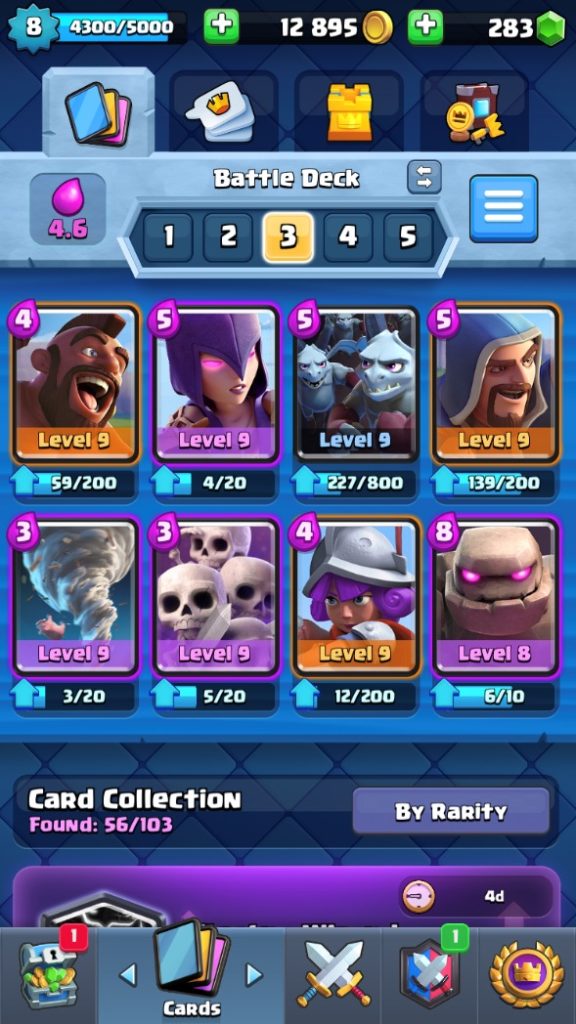 What are the resources?
Clash of Clans:
To upgrade your troops, to train them, to brew spells and to upgrade your buildings you need some resources. These resources are gold, elixir, dark elixir and gems. You can collect gold from gold mines and elixir and dark elixir from their collectors. For gems you can buy them from the shop along with the other resources. You can also use real money to buy these things from the shop and use them in the upgrades.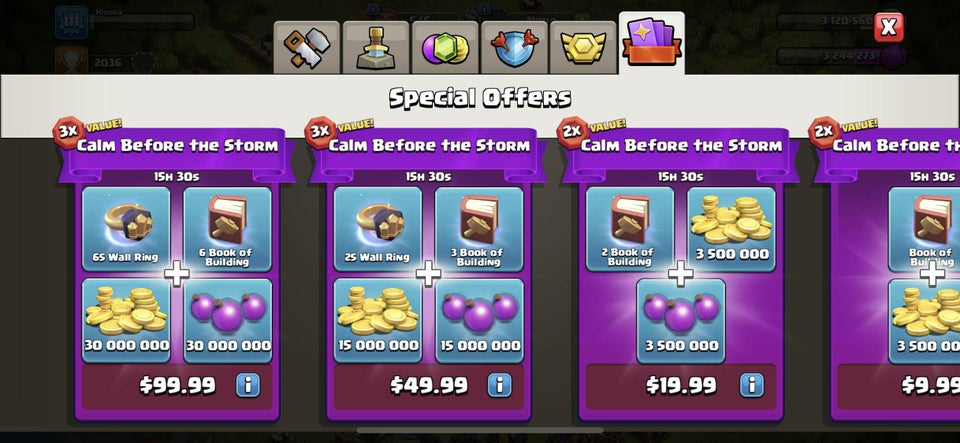 Clash Royale:
In Clash Royale, you have cards that you need to upgrade. To upgrade your cards, you need some more similar cards and the required amount of gold. Unlike Clash of Clans, there are no gold mines in this game. So, you need to win games and complete challenges to get gold. Like Clash of Clans, there are gems. You can use these gems to buy gold from the shop.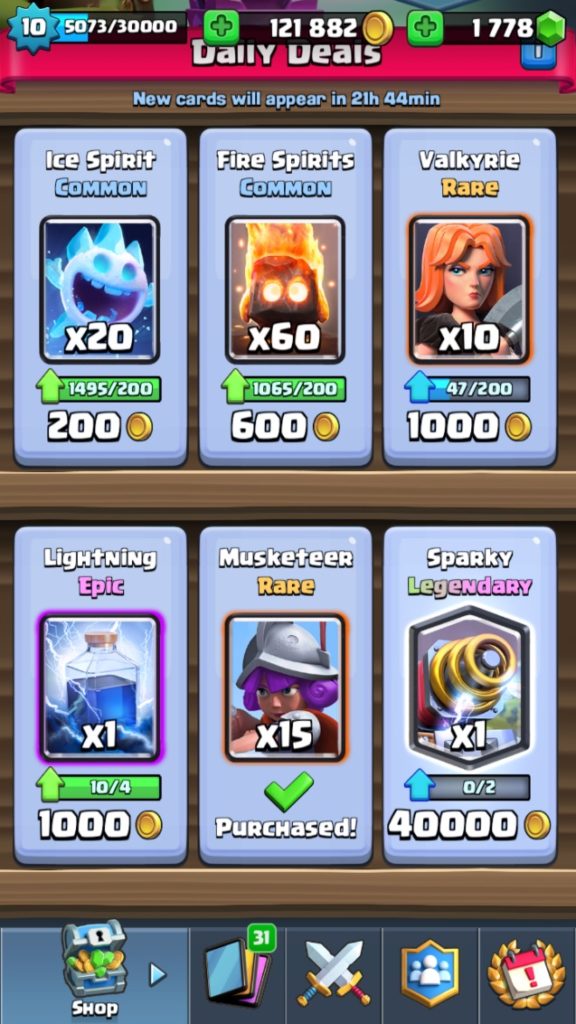 What is a clan?
Clash of Clans:
As this is an online game and as said earlier that there are some opportunities to make new and like-minded friends through this game. You can either create your own clan or you can join some other than, there you can take part in clan battles and ask for some troops etc. You can also challenge your clanmates for friendly battles.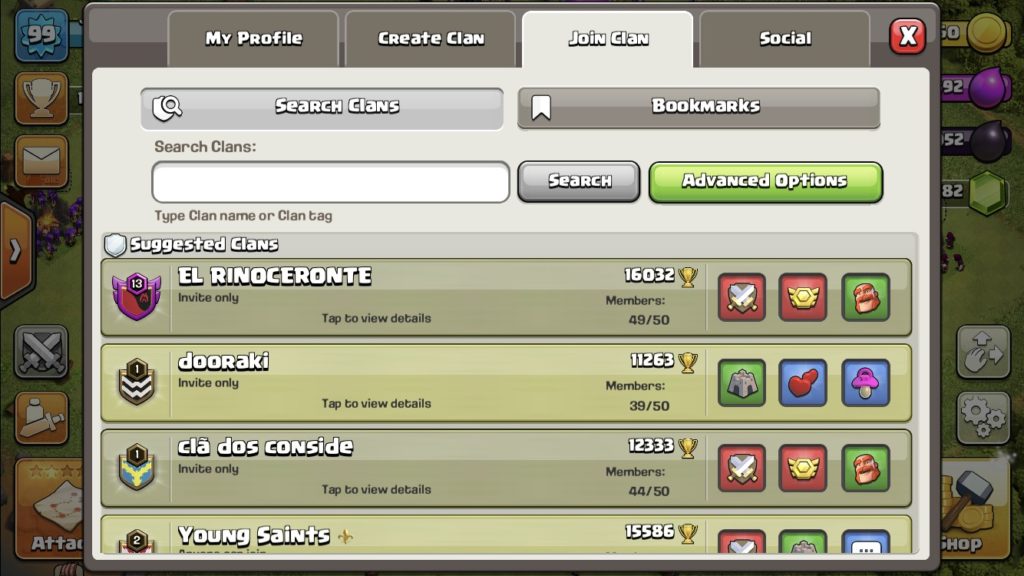 Clash Royale:
There are also clans in Clash Royale. You can create your own clan or join other clans. By joining a clan, you can donate your cards to others and get rewarded with gold; likewise, you can request for some cards as well. You can also challenge your clanmates in a friendly battle. There are also clan wars and some clan challenges which you can compete in.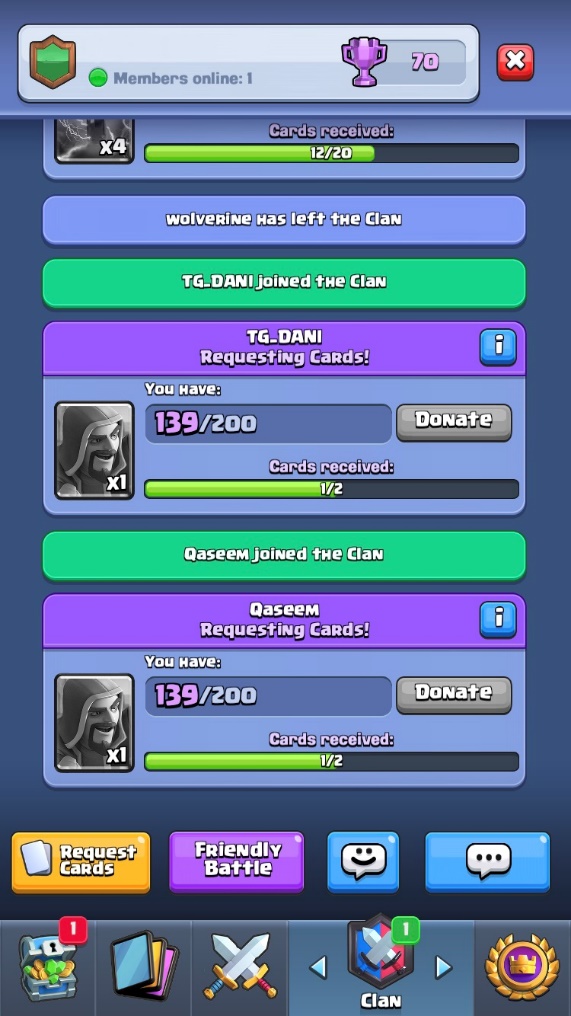 Views about progression and skills?
Clash of Clans:
To progress in Clash of Clans you need a lot of patience and time if you don't like spending money. But if you can buy gems and upgrade things with gems you can easily grow in no time but it will require a lot of money to do so. You can play in a moderate manner and keep everything working smoothly. About skills, you need them and you can easily develop them with time by playing more and more. It is not the case that you need skills from the start but you can easily develop them while you play.
Clash Royale:
Clash Royale isn't that much of a hustle to deal with because there are not that many things that you need to do, like you have to upgrade your cards and get experience points to level up your king's tower. You can easily progress in this game only by using some of the gems and purchases to unlock the chests. This game requires some skills to win but like any card game you can get a hang of it in a few moments.
Which game should you play?
It just depends on you which type of games you like. If you like strategic and long-term games then surely Clash of Clans is your way but if you like to play short-term games then you can have some good time on Clash Royale. As a remark, both games are amazing and both have developed such an improvising community around the world that it doesn't matter which game you play you'll always have some good time with it.