Clash of Clans is one of the most famous free to play strategy game of all time. Just like in any other game, the players here too strive for recognition and respect from other fellow players( or 'clashers' as many people from the community like to affectionately refer to themselves) . And being in a high level League can almost definitely get you that. (Talk about being in a different league huh!)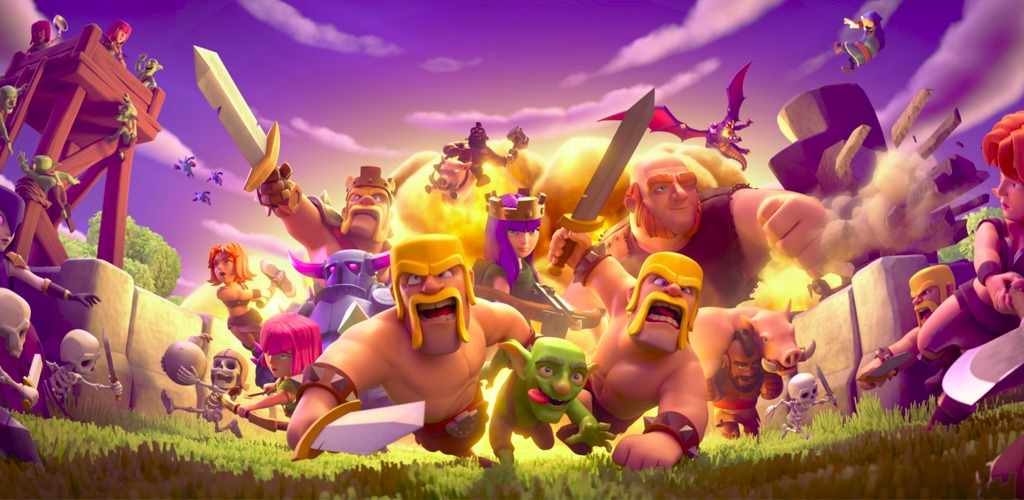 We all know how the players from your clan, who belong to the Champion, Titan or Legend leagues, are acclaimed amongst the clanmates. This emotion is shared by players from other clans as well. Especially by the clashers from the clan you are at war with. Needless to say, we too crave for the respect and attention these players get and strive to reach superior leagues. Worry not, in this article we will get you familiarised with the basics of league hopping and set you up for your climb through them.
Leagues in Clash of Clans
Before we dive into the ABC( or rather the ALCA) of Clash of Clans, how about we re-familiarise ourselves with the concept of leagues.
Trophy Leagues, or Leagues, as the name suggests are the echelon you belong to in the realm of Clash of Clans. This is determined by the number of trophies you have. You progress through leagues as your trophy count goes up.

Now the Leagues, besides asserting your superiority, are relevant in two other ways.
Max loot bonuses: These are the bonus you get after you have successfully attacked an enemy village in multiplayer mode. This loot is allotted to you after you have done the attack and adds up with the loot from the attack. The max loot that you get as a reward for 3 star attacks increases with your league.
Star loot bonus: You are eligible for this bonus when you earn 5 stars from your attacks in multiplayer mode. This becomes available only once every 24 hours and like the Max loot bonus, increases with your leagues.
How to climb through Leagues?
Now that we know what we are aiming for and what benefits we expect to reap from them. Let's dive into how to get there. In order to scale through leagues you need to follow the ALCA(Army Loot Clan Achievement) doctrine. To successfully do so, follow the steps mentioned below:
Step I. Improve your army: There are only two ways by which you can gain trophies. One of them is by successfully defending your village from an attack and the other one is by successfully attacking an enemy village. Now you cannot guarantee the former, but can rely on successfully executing the latter. To do so, you need a strong army. Make sure you:
Have your laboratory upgraded as soon as you upgrade your town hall.
Max out your troops and spells before upgrading your town hall.
Max out your heroes.
Step II. Drain your resources when your shield is about to end: Draining your resources from your storages and collectors will leave little to none loot for an enemy about to raid your village. This will often dissuade the attacker from attacking. This is a great way to make sure you don't lose trophies that you have earned. Make sure you:
Collect the resources from the collectors on regular intervals.
Spend the loot on upgrades and research when your shield is about to end.
Step III. Find yourself a nice Clan: A good clan which actively participates in wars and donates regularly can get you a long way. Clan Castle troops can often turn the tide of a battle and bring in the much needed trophies. Meanwhile the loot from the wars aid you in all sorts of ways, mostly by helping in the upgrades.
Step IV. Achievements: Now this does not directly help you gain trophies. Rather this can be seen as a support element for your effort to win trophies. You can access the achievement list from the button on the top left side of the screen.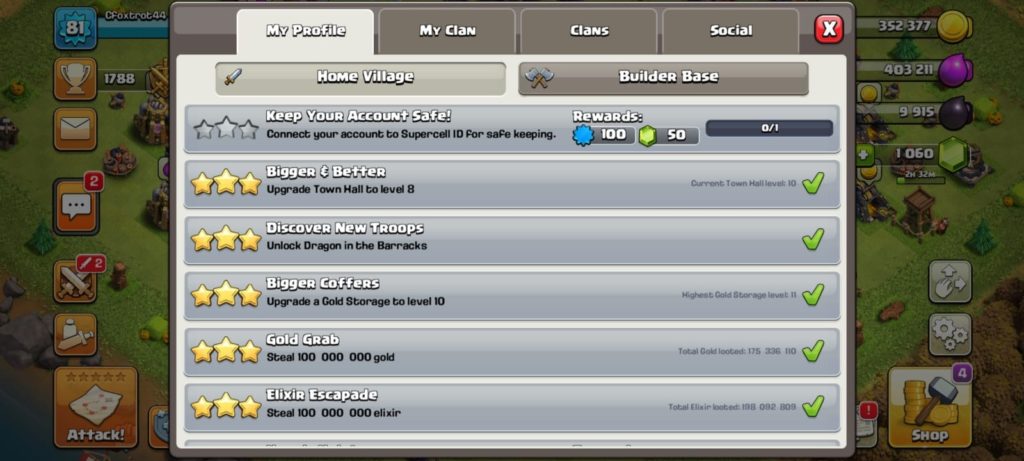 Here you can find all sorts of different types of missions. You can use these missions to give you a sense of direction of where to go and how to progress through the game.