Ahoy, Knights! Preparing for the next legendary battle that may be written in clash royale's history with pink Elixir? Or do you want to show off your collection of all 18 legendary cards to your fellow royales?
Well, you're in luck! Today we're going to walk you through all the steps of getting your legendary to help you become the next champ!
Start swinging your fisherman hook [Not Maui's] and let's get started!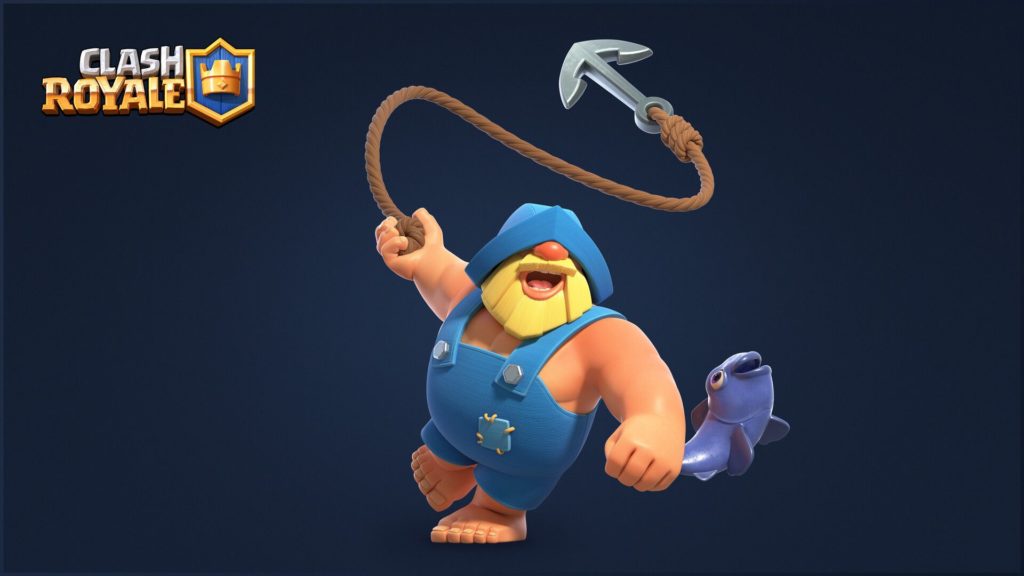 Penniless Way
While you can always spend money to get legendary cards easier [we'll get to that part later on], some "free" blessings are always tasty, isn't it? Yum yum!
Let's dive into the river [The one flows in the middle, I don't know if it's that deep] to get going with the next legendary card of your Clash royale career!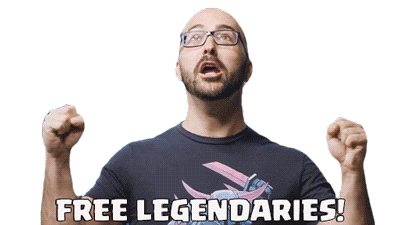 Way Uno: War of Wedges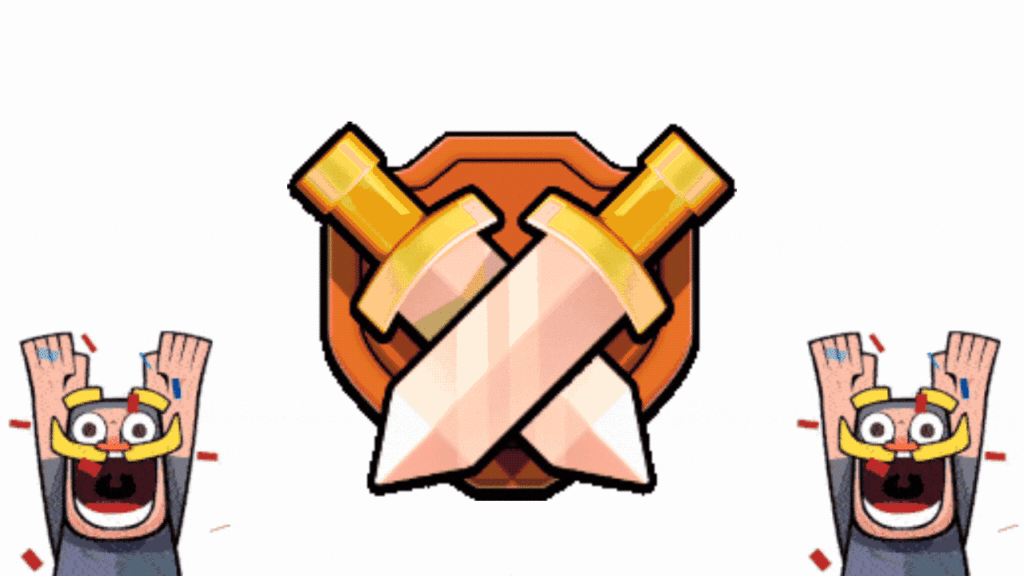 Active and strong clans have a higher chance of being in top places and participate in high ranked wars. Once you get to level 8 or more and your clan has at least 10 royales eligible for war, You can start battling. The clan winning most battles on the war day will place higher and gain more clan trophies to climb up their way through the clan league.
At the end of the war season, Your clan will get a war chest based on its placement.
If your clan reaches Legendary I league, you'll get a guaranteed legendary card!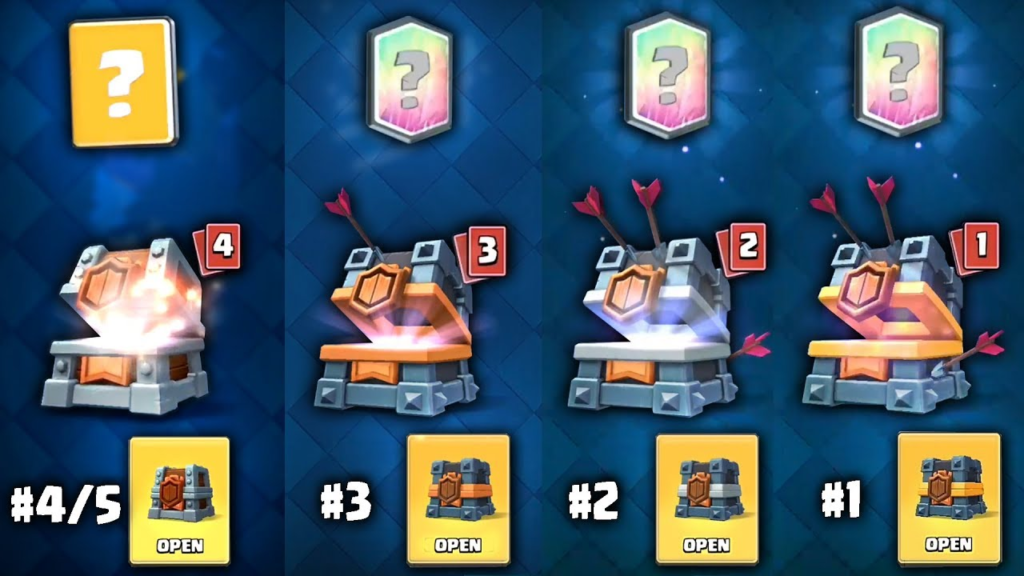 Here's a table of Guaranteed Cards based on Clan League and Rank
| Clan League and Rank | Golds | Cards | Guaranteed Cards |
| --- | --- | --- | --- |
| Bronze DNP | 150 | 30 | 3 Rares |
| Silver DNP | 350 | 70 | 1 Epic + 7 Rares |
| Gold DNP | 550 | 110 | 2 Epics + 11 Rares |
| Legendary DNP | 750 | 150 | 3 Epics + 15 Rares |
| Bronze 4th-5th | 630 | 90 | 2 Epics + 18 Rares |
| Bronze 3rd | 1,050 | 150 | 3 Epics + 30 Rares |
| Bronze 2nd/Silver 4th-5th | 1,470 | 210 | 5 Epics + 42 Rares |
| Bronze 1st/Silver 3rd | 1,890 | 270 | 6 Epics + 54 Rares |
| Silver 2nd/Gold 4th-5th | 2,310 | 330 | 8 Epics + 66 Rares |
| Silver 1st/Gold 3rd | 2,730 | 390 | 9 Epics + 78 Rares |
| Gold 2nd/Legendary 4th-5th | 3,150 | 450 | 11 Epics + 90 Rares |
| Gold 1st/Legendary 3rd | 3,570 | 510 | 12 Epics + 102 Rares |
| Legendary 2nd | 3,990 | 570 | 1 Legendary + 14 Epics + 114 Rares |
| Legendary 1st | 4,410 | 630 | 1 Legendary + 15 Epics + 126 Rares |
Courtesy of Clash Royale Fandom
Way Dos: Battle for the bread
It may seem that battling to get legendary cards may depend on extreme luck. But if you're a geeky player you've probably heard about the term called "Chest Cycle" in Clash Royale.
You got it right! There is a definite chest cycle of 240 chests.
According to Fandom Wiki, Each player gets a legendary chest once every two cycles. That means after every 479 chests, you'll get a legendary chest! [Feel lucky too!]
Note: You need to be at Royal arena [Have at least 2000 trophies] to get a legendary chest in your cycle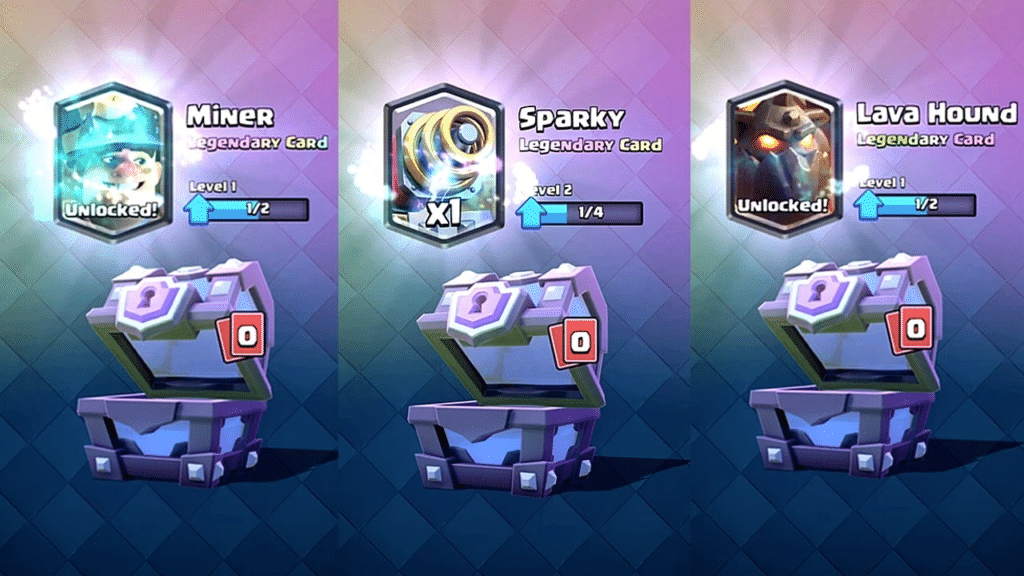 Way Tres: Climbing up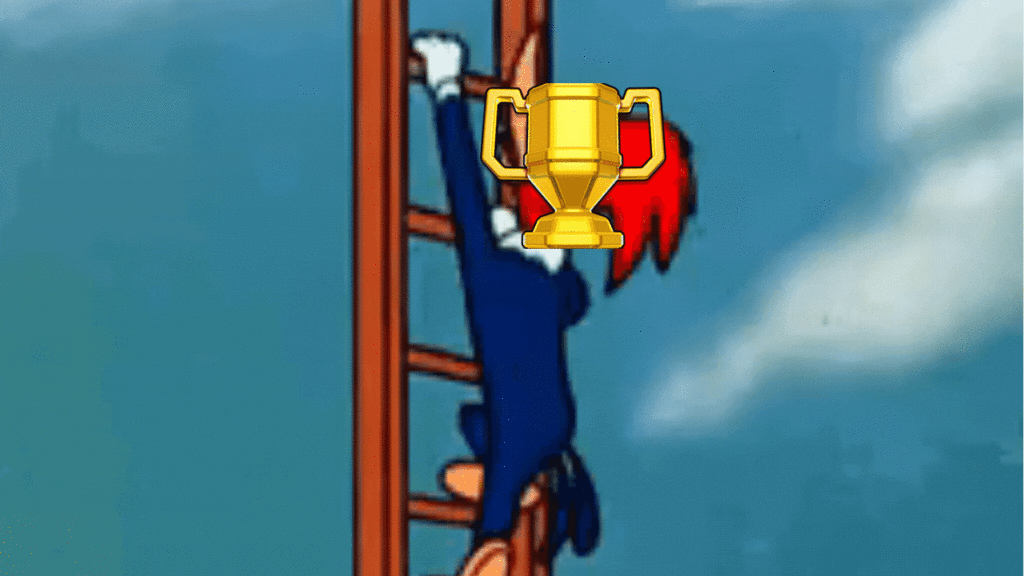 You have probably noticed already that on certain amounts of trophies, You get some extra rewards known as the Trophy Road. And… drum rolls… It also includes Legendary Chests! Here are the trophy amounts you'll get a guaranteed legendary chest on.
Legendary Chests: 1950, 4525, 5900 Trophies
Legendary King's Chest: 3950, 6900 [Ehh?] Trophies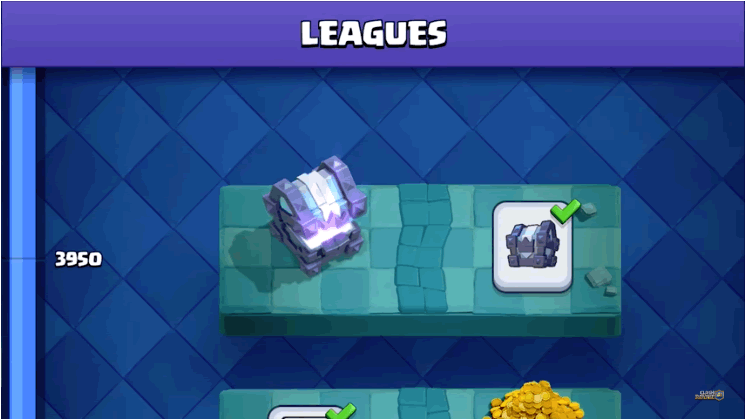 Way Cuatro: Complete Crunchy Challenges
A traditional but fun way. Go to your Challenges Tab and look for newer events that are often free to join on the first run. There are several kinds of challenges waiting to be rocked!
Classic Challenges: Available all the time and requires around 10 gems to join. Better performance will yield better results to compensate your gems
Events: Special kinds of challenges containing fancy and crazy rules as well as full of thrills! They are free to join on the first run and provide huge rewards!
Grand Challenges: It's available when you reach level 8. For 100 Gems. This requires much higher skills as you will certainly be matched with players with more than 6K trophies! But also will provide a guaranteed legendary card and up to 20K Golds if you complete all 12 rounds!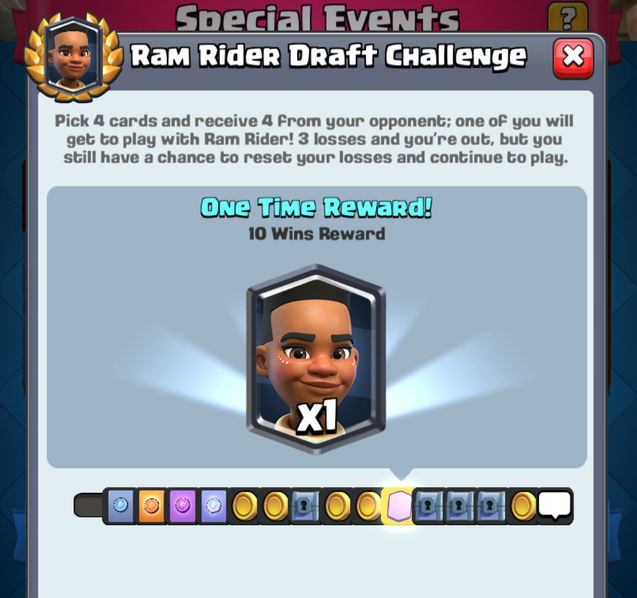 That's all the way to add another legendary card under your belt! [Or Deck]. Let's Explore some "Money is Honey" Methods!
Money is Honey
Well honey but tastes like Elixer. In this section, we are going to walk through some more methods of obtaining your favourite legendary cards instantly in most cases. Not all will require money, some of them will need just pure gold!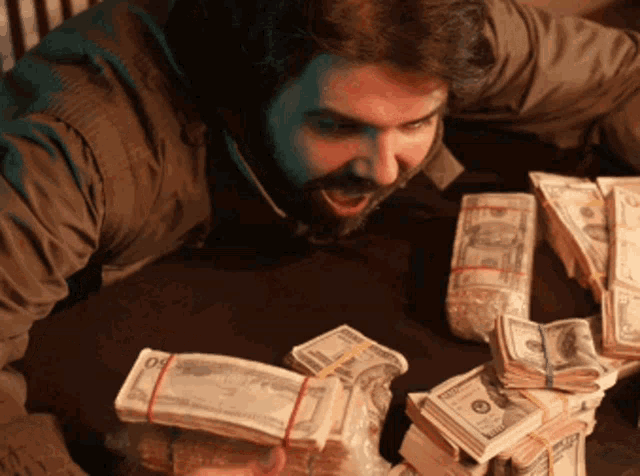 Way Uno: Buy the Buddies
Yes, the same shop you use to claim for free chests, cards, gold and gems! Who thought that this works with money too?
Upon reaching Arena 10 or above, you can buy 1 Legendary card at a time directly from the shop with 40,000 Golds. Sweet, right?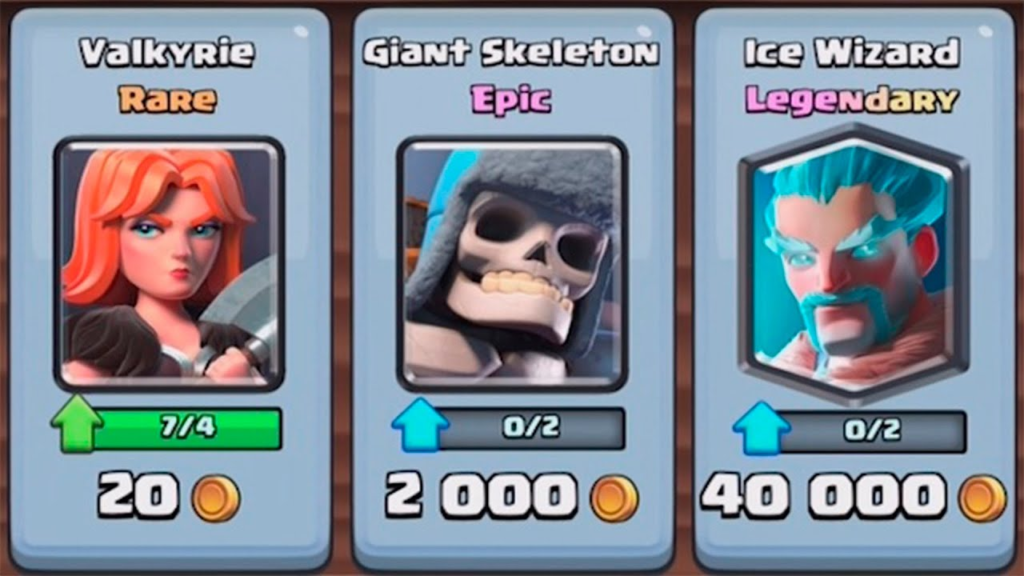 Way Dos: Chunk of Chests
Again those shiny yum yum chests! You can buy Super Magical Chests and Legendary Chests as well as other ones with Gems starting from 250 all the way to 2500. However, Legendary King's Chest will give you a guaranteed legendary card. Starting from Arena 7.
But if you want to use real green things [In short money], You can buy them in arena packs

That's it? It seems Supercell devs aren't that greedy ;p
Raging Resources
Woah, you're still with us? Here are some tools and resources to give a head start to your journey of being the Legend.
Chest Cycle Tracker: Chest Cycle tracker can determine what chest you'll get after winning the next battle by tacking your last opened chests! Head to the link below and put your player tag to get the complete statistics of your profile including upcoming chests.
Shop card purchase calculator: This tool will help you calculate the cost of buying a card from the shop for different cases
https://pixelcrux.com/Clash_Royale/Shop_Card_Price/Calculator
Substitutions of Legendary Cards: Don't want to buy or depend on luck? You can try to build an alternative deck too! This list will help you to choose your cards wisely
While legendary cards possess unique power and cool abilities, your chance of winning will still depend on the timing, placements and tactics. Also, add some chemical X to that just in case.
Till the next time, Keep the arrows raining!