Having a cool skin for your towers not only make you stand out but also in some cases intimidating towards your opponent. Over the past few months players have taken a huge interest in tower skins and that's what I'm here to talk about.
Hello everyone, in this article you will be learning everything you need to know about tower skins. From getting cool skins, to actually putting them on your towers, all will be covered in this article. So without further delay let's get started.
How to get skins?
There are 2 possible ways to get cool skins for your towers.
Random offers can give you skins for your towers but the problem with them is well, they're random. You can't predict when and which offer will have skins included in them.
Pass Royale is a sure way to get tower skins and is the most efficient way so far. In each season you are sure to get at least one tower skin.
Random offers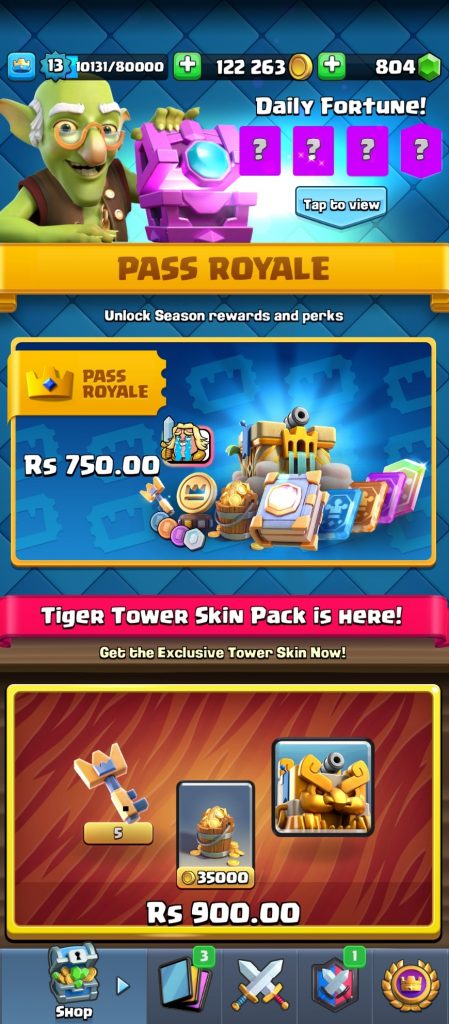 Random offers pop up in shop all the time so make sure to give your shop a visit regularly if you don't want to miss a chance of getting a tower skin.
Right now there is "Tiger tower skin" available for around 6$ these offers change regularly.
To avail random offers click on them, add your payment method in case you haven't already and that should allow you to avail the offer. The only possible thing that can cause an error is low balance.
Pass Royale
Buying pass royale is the most effective and fastest way of getting yourself a tower skin. Here are the steps that you need to take in order to buy a pass royale.
In the main screen click on "Pass Royale", it will take you to the simple pass screen.
On the pass screen you can see all the reward for both free and pass royale. What you want to look for is a yellow "PASS ROYALE" button. The free rewards are attainable without buying the pass royale. You can see which tier or level you need to reach to get the skin for your towers after unlocking the pass royale
Activate your pass by clicking yellow "PASS ROYALE" button that will take you to the pass confirmation screen. Confirm the purchase there and you will be good to move on to the next step.
Before that there's actually another way to buy pass royale and that is, through shop.
Once you click it, the next thing is identical to buying any other offer. It will ask you for confirmation, click on the golden button with price written on it. Give a payment method if you haven't already and that's it, and you should have the pass royale for you.
After reaching a new level there's a reward for it both in free tier as well as pass royale. In pass royale there's a certain level for getting tower skin. That's the level you need to reach in order to gain the tower skin. As for how to level up all you need to do is gain crowns through battles that will make your level higher.
Once you reach the required level and get the tower skin, the next thing you need to do is apply the skin to your towers.
For that go to the card deck screen.
Click on the 3rd golden icon at the top and there you can choose the skin that you just got or any other skins you already have.
And there you have it! After doing all the steps you should have a new skin for your towers and successfully applied on your towers as well.
That's it from me for now. Hope it worked out for you and happy clashing!