The one thing that excites most of the Clash Royale players is decks. Players try different decks and try to design some of their own decks to get more wins. Such that there are many strategies developed regarding the decks and many players have given these strategies names. One of these strategies is called cycle deck. It is one of the most commonly used decks. In this article we will show you how to build and play with this deck.
What is a cycle deck?
Cycle deck is basically a method of developing an attacking deck. In this deck players use low-cost cards to get back to their attacking card. These low-cost cards can be troops, spells or even buildings. But the only compulsion is that they should cost at most 3 elixirs to deploy. These decks are used to apply pressure to your opponent as this deck is strategized to attack. This is a really thoughtful way of sending your enemy to an open trap.
How to create a cycle deck?
Creating this deck is not that much of a job. You just need to have some of the most common cards with you to build it. The main reason is that this deck will depend on your thoughts and the cards available in your inventory. So, just stick to the theory and add your personal experience to put out a better show on the field. Some tips regarding the cycle deck are:
Add some attacking cards in the deck like some tank troops or some fast-moving cards like hog rider. These will be your main attacking cards that will damage your opponent's towers and you will cycle back to them.
Add some supporting cards like melee troops like knight or musketeer. They require less elixir and can attack and support tank troops and base defenses.
Add some of the cycle troops that cost less elixir and can be used to distract the enemy troops or defend your towers. You can use cards like skeleton and goblins etc.
Some layouts of the decks are shown below so that you can get a better idea.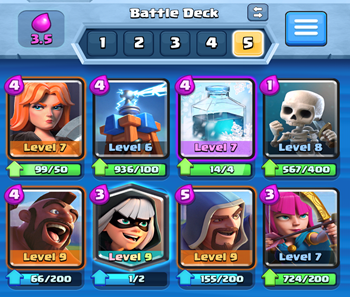 Another cycle deck with a different aspect ratio is,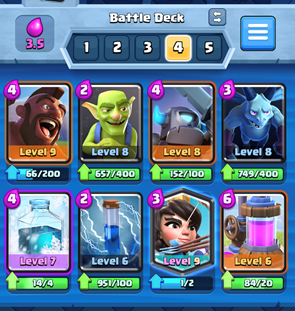 How to play a cycle deck?
The main strategy behind a cycle deck is that you need to cycle back to your attacking troops as fast as possible to pressurize the enemy. This is the main idea behind this deck. So, to play with it is quite easy. You just have to cycle back to your main troops, whether they are tank troops or fast-moving attackers. But as a worst-case scenario your opponent deploys a tank troop. In that case you can start your attack strategy in the opposite lane and use your cycle cards in the tank troop defense. This can be summarized as:
Deploy your tank troops in one lane and aid them with your supporting cards.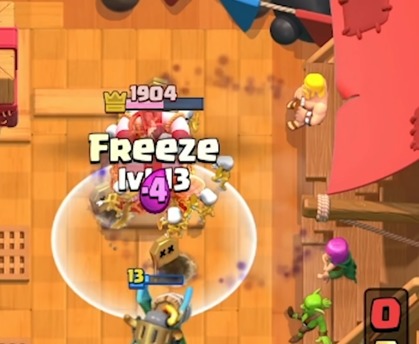 If the opponent deploys their tank troop, defend using your cycle cards and attack with your main troops and supporting troops in the other lane.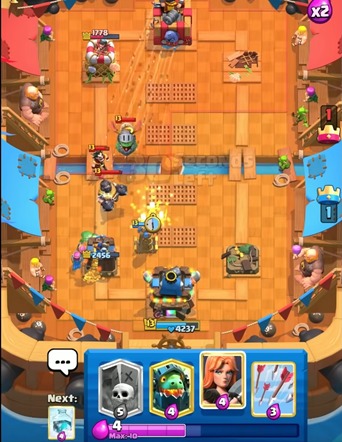 Can buildings be used in cycle cards?
Yes, buildings can be used in cycle cards. The only condition is that they must cost less elixir to deploy so that you can cycle around the deck faster. You can also use spell cards in the cycle deck.