Brawl Stars has an excess of 50 brawlers from which you can choose from. All of which have their own unique sets of strengths and weaknesses. These permutations of agility, damage, health and range opens up a new dimension of gameplay strategy for all of the 50 or so brawlers. These interesting combinations are only enhanced and complemented by their assigned Supers and Star Powers. And Mortis, is a prime example of how such combinations can spew an entire genre of fun to play Assassin brawlers.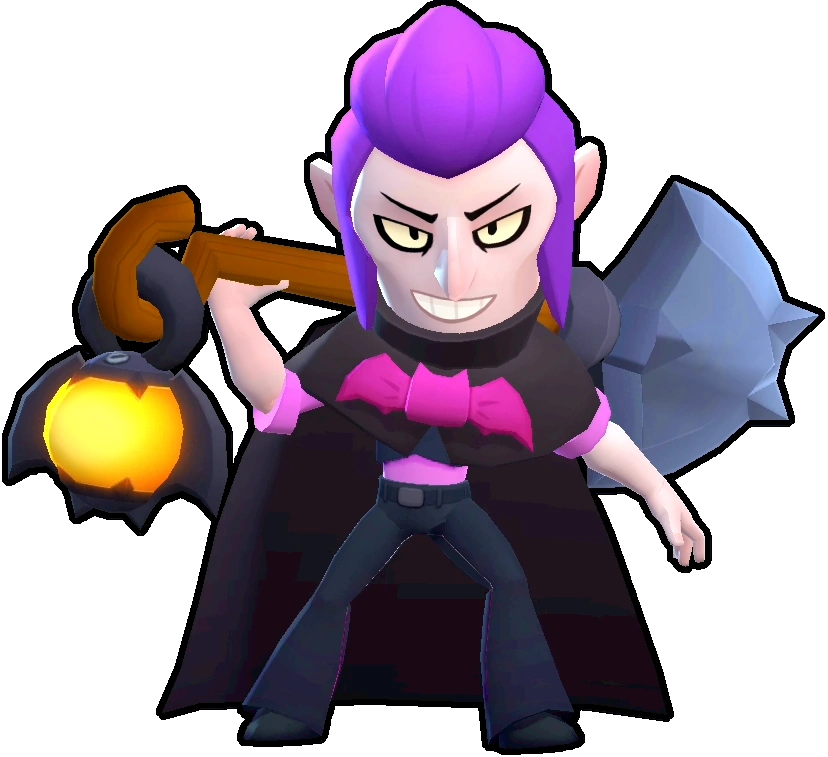 Mortis is a Mythic brawler, which by its nature places Mortis amongst a group of elite brawlers in the game. With an above average health(3800 at level 1 and 5230 at level 10), fast movement pace of 820 and a relatively lower damage(900 at level 1 and 1260 at level 10), one can easily underestimate Mortis. Which to be fair, isn't unwarranted. The damages dealt by Mortis at lower levels are very low and the high reload time does not help either. However if you pair a seasoned player with the tips and tricks in this article, you will end up with a more than formidable brawler capable of incredible feats.
Powers and Gadgets:
Mortis commands and employs one of the best and most complementing sets of Super, Star Power and Gadgets in the game. The super and gadgets make up for the shortcomings that Mortis has in damage and reloading time.
Super: When used, Mortis summons a swarm of bats directed towards the intended direction. These bats travel over the obstacles and walls to deal damage to opponents seeking cover behind them. The Super also serves as a healing element for mortis. Mortis is healed 125% of the full amount possible for his Super's level even if the enemy hit has less health left than its maximum damage. However, if the bats miss, Mortis doesn't heal. As a bonus, if the bats heal multiple enemies, the heal received by Mortis is multiplied by the number of the enemy hits.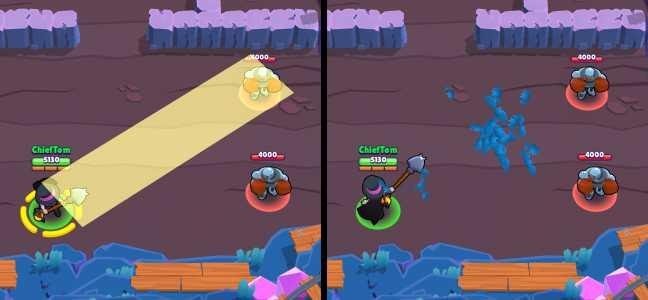 Star power:
Creepy Harvest: Mortis heals itself by 1800 health after defeating an enemy brawler.
Coiled snake: Mortis's attack bar now charges in 3 seconds.
Gadgets:
Combo Spinner: Mortis instantly spins his shovel around him, damaging all enemies in a 3.33 tile radius for 1300 damage. He can still move but can't use his attack during this Gadget's duration.
Survival Shovel: Upon activation, Mortis appears red and doubles his reload speed for 4 seconds. This doesn't affect his long dash bar's charge duration.
Tips and tricks
The key to a formidable Mortis lies in the proper implementation and use of its star powers, supers and gadgets. However, before we go forward and explain how these powers can be exploited, we must admit that Mortis remain vulnerable to long range brawlers in maps with vast open spaces and less walls. Hence the modes in which you should expect Mortis to excel are Gem Grab, Brawl Ball and Showdowns.
Always try to land your super on two different opponents. The Super of Mortis is also his healing element. And the amount of heal is multipliplied if your super hits more than one enemy brawler at once. Hence it comes in very handy when you find yourself in tight situations with multiple enemy brawlers closing in on you.
Make the dashes more sporadic. When you go in for a death volley on an enemy brawler, make sure that you make the dashes sporadic and unpredictable. This helps you exploit the high degree of mobility of Mortis.
Use the dashes to get out of a tight situation. The dashes can be a boon when the intent is to move from position A to position B in a hurry. And thus can be used to reach or get out from a tight situation where your Mortis is vulnerable. Even the auto aim cannot keep up with Mortis if the dashes are used properly. However while trying to get away from an enemy brawler, do not use the auto aim feature, as it will draw you closer to them instead of taking you away.
Make sure you memorise how much damage your Mortis does. Although the damage dealt varies widely with the level of Mortis. It comes in very handy when you have to calculate the number of hits you would require to take out an enemy brawler. Try to avoid any enemy brawler, which might need more than four hits to kill. As the high reload time of Mortis increases the risks of losing a counter attack from an undefeated enemy brawler.
Keep in mind to cultivate heels from pets and turrets. Hitting the pets and turrets are treated equally by the super when it comes to retrieving health from them. And must be used, whenever possible, to heal up. As it is relatively easier to score a hit against these than other brawlers.