Brawl Stars has an excess of 50 brawlers from which you can choose from. All of which have their own unique sets of strengths and weaknesses. These permutations of agility, damage, health and range opens up a new dimension of gameplay strategy for all of the 50 or so brawlers. These interesting combinations are only enhanced and complemented by their assigned Supers and Star Powers. And Sprout, is a prime example of how such combinations can spew an entire genre of fun to play Thrower brawlers.

Sprout is one of the eight Mythic brawlers in the game. Which means that it is among a handful of elite brawlers in the game. Sprout has moderately low health(3000 at level 1 and 4200 at level 9) and moderate damage(980 at level 1 and 1320 at level 9). At a first glance it can seem underwhelming. However, its real strength lies in its utilities. It's super is like none other in the game and Sprout comes equipped with the gadgets which can turn the tide very quickly.
Powers and Gadgets
Sprout commands and employs one of the best and most complementing sets of Super, Star Power and Gadgets in the game. The super and gadgets make up for the shortcomings that Sprout has in its moderately set health and mobility.
Super: When used,Sprout throws a seed which grows a hedge of 3-by-3 dimensions across 5 tiles. This can block the path of enemies and allies alike. However, like most walls, it can be destroyed by wall breaking supers. It is a formidable tactic while retreating and retains unparalleled advantages in certain game modes.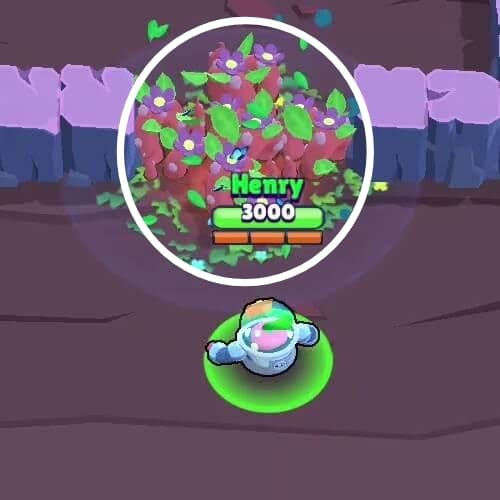 It must be noted that if the super is used at a place where there are walls nearby, the hedges will grow to attach to the walls and produce a hedge of varying dimensions, shape and size.
Gadgets:
Garden Mulcher: When Sprout is in close proximity to a bush tile, it will destroy the bush while simultaneously restoring 1500 health. This can be used to successfully launch a sneak attack on an enemy through the bushes.
Transplant: Sprout instantly destroys all of its active hedges, but Sprout will have its Super charged fully again.
Star Power:
Overgrowth: This helps Sprout gain a charge bar. The charge bar, like many other charge bars, enhances the ability of the brawler. In Sprout's case, this increases the effective radius of attack by 25%. This increases the attack radius to 5 tiles from 4 tiles.
Photosynthesis: While in a bush, Sprout shields itself from all damage by 30%. After exiting the bush, the shield lasts for another 3 seconds. This again aids the sneak attack strategies.

Tips and Tricks
Much like any Thrower brawler in the game, Sprout can truly dominate when you play while maintaining a certain distance from enemy brawlers. The auto aim can get really tricky and ineffective at closer distances.
Make sure you exploit the Super's affinity to the walls. Make sure you use the walls around you to your advantage and place your supers accordingly.
The attack deals equal damage to anyone in its blast radius. It does not however do that if it lands directly on the enemy brawler. Try to land your attack bombs in the vicinity of the enemy brawlers.
While playing Brawl Ball. You can effectively block the entrance of your goal when an enemy brawler is trying to score a goal. This completely paralyzes the enemy team and gives you invaluable time to wait for reinforcements from your teammates.
Use your Sprout while playing in game modes with wall intensive and bush intensive maps. I.e Brawl Ball, Gem Grab, Showdown etc.