Planning to save some dark elixir but need to get super troops? then using super potions might be an option for you to consider.
A super portion is a magical potion that allows clashers to upgrade a normal troop into its super troop version without the requirement of the usual dark elixir for three days. This can save you as much as 25,000 dark elixirs. Cool right? If You want to know how to use super potion in the clash of clans' game, then this article is for you, so let us dive right in.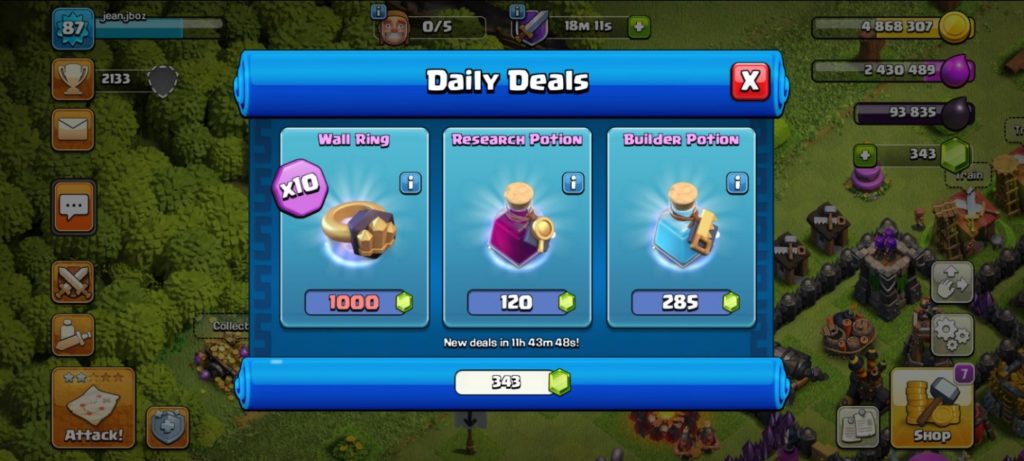 Before you are eligible to use super portions in clash of clans, you need to have reached town how level 11. Even though you can get super-portions at a lower town hall, you will not be having much need for it as super troops become available only when you are the chief of town hall 11 and above. So you might want to consider saving them or perhaps, trade them with the trader for ten gems. An unfair deal, I must comment, but well, that is the only other choice you have.
Also, you will be able to apply the super portion on a troop only when it has reached the minimum level required to be eligible for conversion into a super troop.
To use a Super Potion in Clash of Clans, you need to tap on the "Barrel-like" building just opposite the trader where super troops are trained. You can buy a super potion for 300 Gems from the trader. Also, you can also win it as a reward from Clan Games once you have reached Town Hall 11. Other sources of super potions include the gold pass, buying them from league shop, or buying them from the shop where you spend real money.
How to access and use super portion in COC game
Here are the step-by-step procedures needed to use super troops in the clash of clan game.
Tap on the super troop barrack (barrel-like building) opposite the trader.
Tap on the Troop you wish to upgrade to a Super Troop.
A new window will have the option to either use Super Potion or 25,000 Dark Elixir for the upgrade.
Click on the Super Potion to use it to upgrade your Troop.
As simple as that. A Normal Troop converted into a Super Troop.
You can boost up to 2 Super Troops at the same time.
When and how to use a super potion
In my opinion, super troops could really be useful for events that require you to use super troops to complete them. Also, during clan league wars, you can use super troops to strengthen your army as you have a very limited number of attacks to get the maximum number of stars. Also, you might want to use a super potion to upgrade your troops into super troops and donate to your other clan mates that might be in need of it.
To recap on what we discussed in this article on how to use super potions in clash of clans, super potions are useful as from town hall eleven, and they can be used to upgrade troops into super troops without using the usual 25,000 dark elixirs. Of course, these super troops can then be helpful during clan league wars or just for donating to other clan members.