Troops are a vital part of any battle. In Clash of Clans, you get an opportunity to up-build and strengthen your troops by upgrading them. In this article we will cover some vital points which you can follow to upgrade your troops.
From where to upgrade the troops?
To upgrade your troops, you need a laboratory. In the laboratory you can upgrade your troops, siege machines and spells. This will help you to make your army stronger and increase your chance of winning the game.
How to upgrade troops?
There is only one way to upgrade your troops and it is through the laboratory. First you have to unlock your laboratory by upgrading your Town Hall to level-3. This will give now the option to unlock the true power of your troops and strengthen-up your army.
Requirements:
Your Town Hall level should be 3 to unlock the laboratory.
You should have required elixir to upgrade your troops.
The troop you want to upgrade should be unlocked first.
Step-1: Open Clash of Clans and go to shop.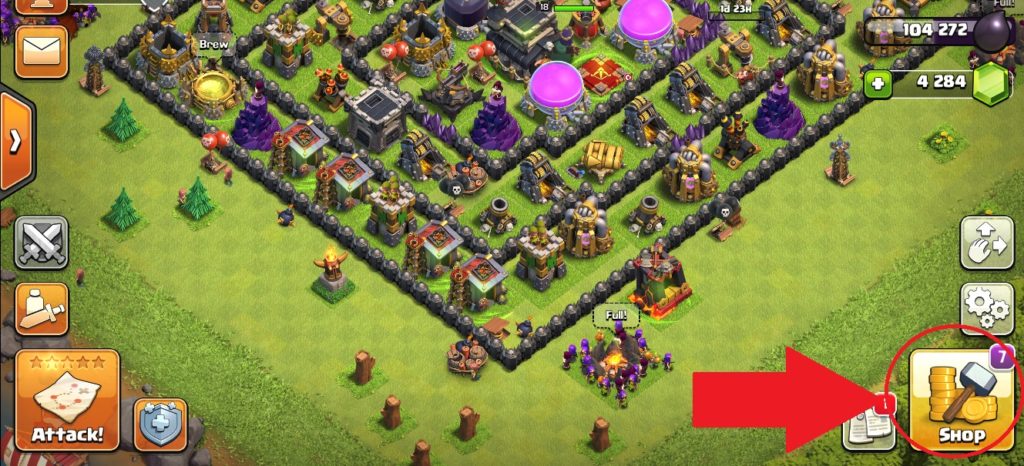 Step-2: Click on Buildings and Traps.
Step-3: After that, find the laboratory and build it.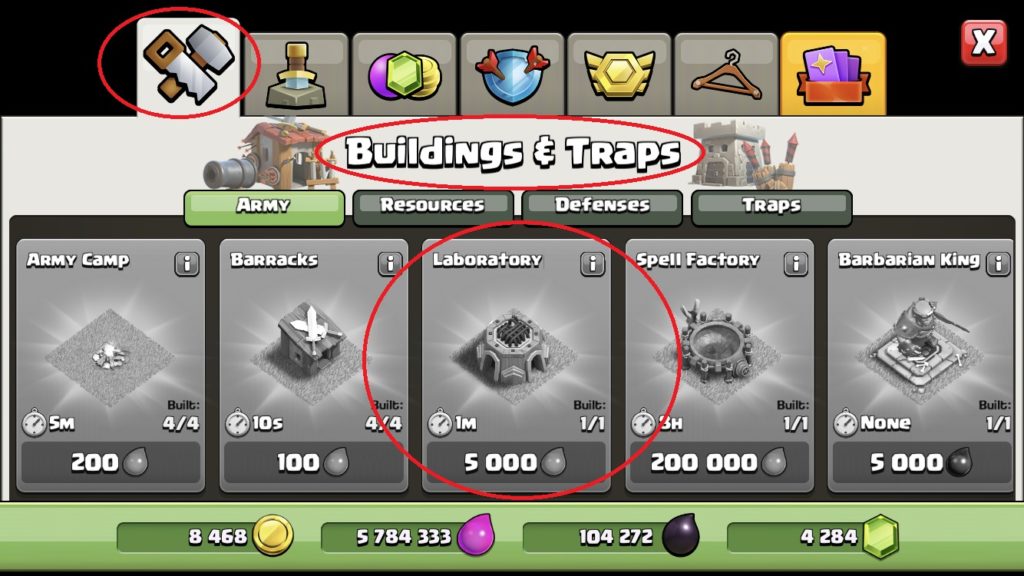 Step-4: After the building is complete go to the laboratory and click on research.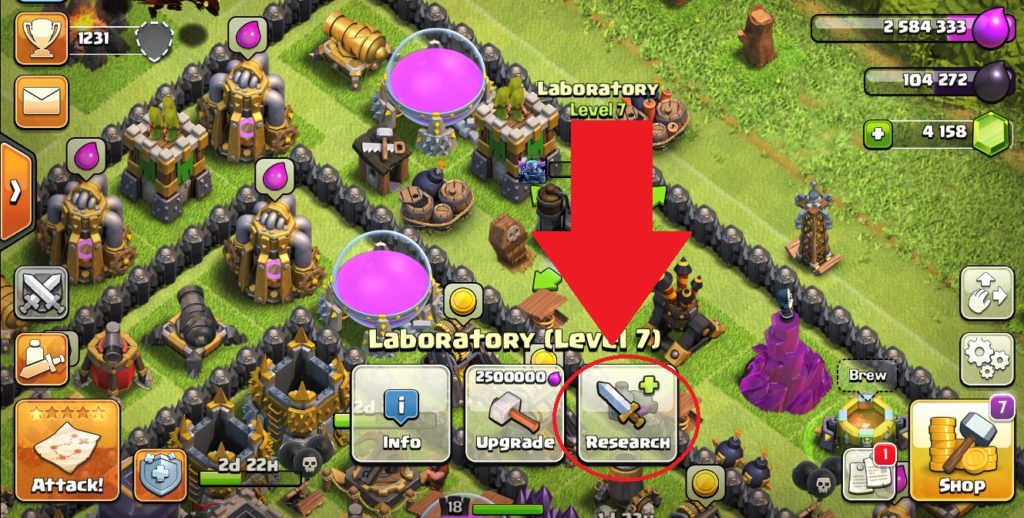 Step-5: Select the troop you want to upgrade and click on it.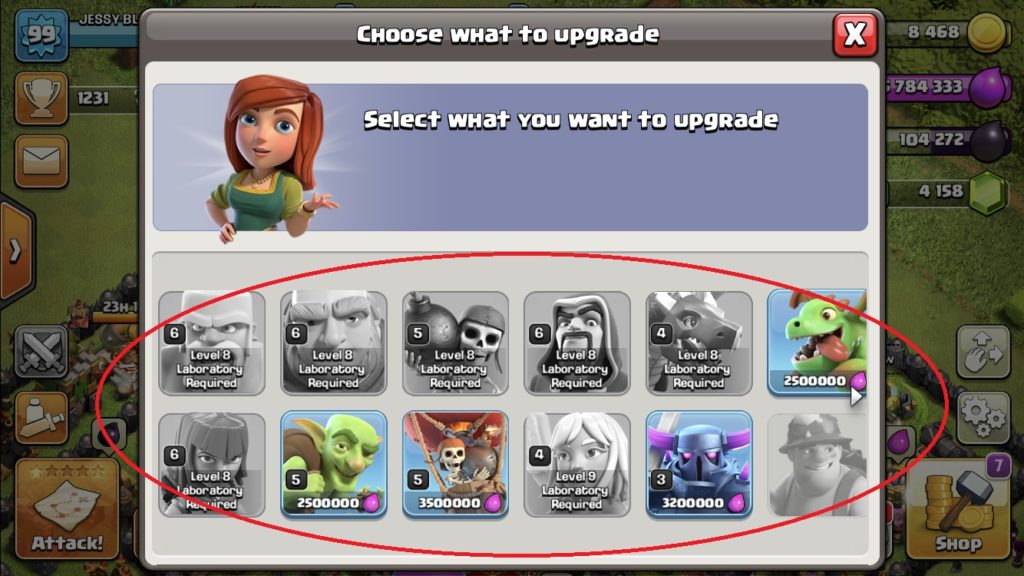 Step-6: Check the requirements and click on the elixir at bottom right.
Step-7: That troop will start upgrading.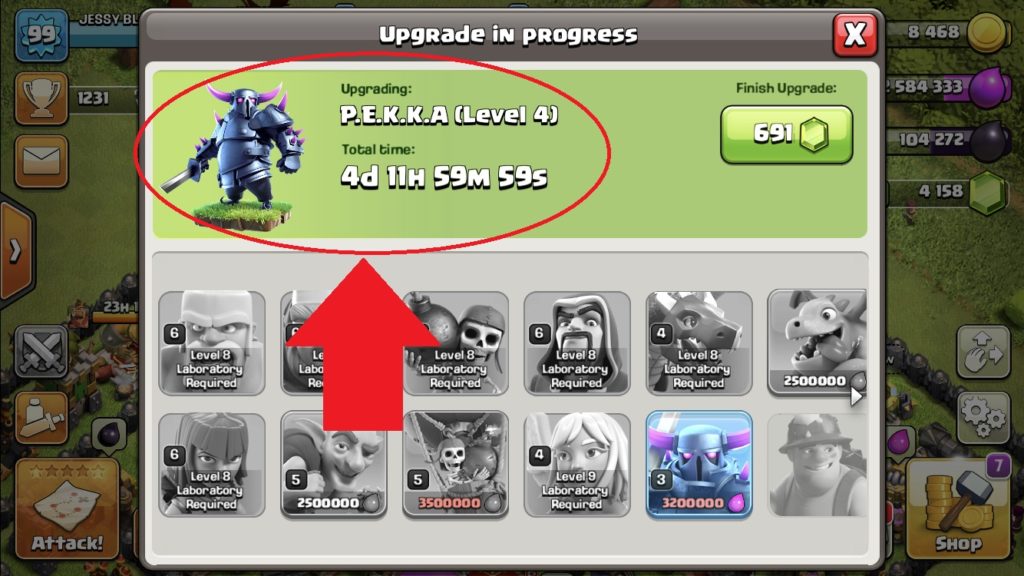 Where to upgrade dark troops?
Dark troops can also be upgraded from the laboratory. The only difference is that you need to pay dark elixir to upgrade your dark troops and that troop should be unlocked first before upgrading it. Not only troops you can also upgrade your unlocked spells and siege machines in the laboratory.
Where to upgrade spells?
Spells, as like the dark troops, can also be upgraded from the laboratory. The only thing required is that you must have the required amount of elixir along with that specific spell unlocked.
Can Heroes and Pets be upgraded in laboratory?
Heroes and Pets cannot be upgraded from the laboratory. To upgrade them you need to upgrade their stations. For example, if you want to upgrade Barbarian King. Then you must click on the Barbarian King and then there will be an option to upgrade. Click on it and your Barbarian will start upgrading. This also follows for all other heroes too.
What is the max level of laboratory?
The maximum level that you can upgrade your laboratory is to level-12. This will unlock more upgrading levels for your troops.